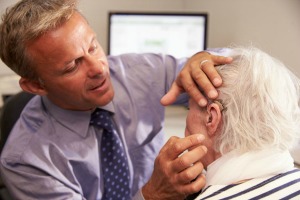 Assisted Living Option for Elder with Hearing Loss
Reading Time:
2
minutes
As we get older, our bodies change. What had once been easy to do will suddenly become more complicated. Tougher. We will also contend with an increased risk of various health challenges, including vision and hearing loss. Can a loved one still be safe living at home (whether alone or not) or should they consider moving into assisted living?
Not everyone will deal with these, but in time, the older a person is, the more likely he or she will most certainly have challenges with regard to their declining senses.
Your father or someone else in your family may be dealing with some level of hearing loss. Aides, surgery, and other options can help, but what happens when that hearing loss begins to impact his life?
First, don't force someone into this decision of moving to assisted living.
While you and others in the family are convinced that assisted living would be the best option for your father, especially because of his hearing related challenges, it is still his decision.
Make sure you don't lose sight of that.
It's easy to get so caught up in worrying about someone you love that you overstep your boundaries and start pressuring an aging parent or other loved one to make a transition.
Let this be his decision, not yours. It's great to advocate for assisted living, but avoid the temptation to force this on him.
Second, does he really need to move to assisted living because of his hearing loss?
No, he doesn't. However, when you begin struggling to hear well or see clearly, every task at home that used to be second nature takes on new life.
They become more complicated. More challenging.
If your father is at an assisted living community, he will have the support of experience staff when he might need it. There will also be numerous methods of communication, including visual, such as signs or using closed captioning on television programs and movies.
Third, focus on quality of life.
Some people assume that when they start losing their hearing, that quality of life will ultimately decline. That doesn't have the be the case.
In fact, many seniors who choose assisted living when they have some chronic health issues or physical challenges discover they can still do a lot, and even enjoy life more as a result of this decision.
Your father could, too. But remember, he doesn't have to move, but when he knows the truth about assisted living, he might just want to.
If you or an aging loved-one is considering a move to an Assisted Living Facility in Simpsonville SC please contact the caring staff at The Springs at Simpsonville today. 864-962-8570