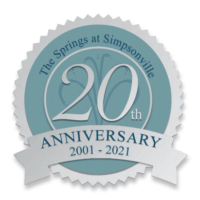 Testimonials
We think the most powerful advocates for The Springs at Simpsonville are the families, loved ones and professionals whose lives are touched by our care. We asked a few of these people to share their story, and what The Springs has meant to them.
In 2001, I moved my mother to Greenville, from her home in Mississippi. Several years later, she became a resident of the Springs, staying there from 2003 to 2005.
During that period I got to know the staff very well, and was awestruck by how warm, loving and caring they were – not only to my mother, but all the residents.
It was a wonderful experience for my mother and my family. My wife Jan and I have stayed active with the Springs since my mother's passing in 2005, and still serve thanksgiving meals there to this day.
John L
Helps every Thanksgiving with serving residents
My wife Elanore and I have known the Howard family since 1960, when I started doing tax returns for Hunter Howard senior. We also got to know the Howard family through the Simpsonville Chamber of Commerce. Elanore was the chamber's chair then, and was asked to be on the advisory board for the Spring. We also had, and still have, friends and some of our Church family there as residents.
What impresses me is how sweet and loving they are to the residents. I give them high praise and thanks for well the facilities are maintained, and for the appreciation they show for our senior citizens. It's like family taking care of family. I have never had a complaint over all these years.
Clyde B
Friends have stayed at Springs
Hunter came to my office before opening the Springs, asking me to serve on his advisory board, which I did. A number or years later, I became much more involved with the Springs, as my brother and my father-in-law became residents. My brother was in the memory care unit and my father-in-law was there for three days before passing.
I have been overwhelmed with the caring persona when my father-in-law entered. He was well past the "assisted living" level or care, but between Hunter and Jim DeWitt, they accommodated him with care well beyond what was expected.
I would not hesitate to recommend the Springs to any relative, friend or anyone for that matter. They have activities for residents such as trips and games, the dining experience is outstanding and the quality of care is unmatched.
Ed Brashier
Brother and Father-in-Law stayed at Springs
I'm honored to be associated with Hunter Howard, his family and the entire Springs organization. There is not a family I know that is more kindhearted, trustworthy and active in our community as the Howard family has been for decades. I have worked with Hunter personally on many occasions, not just through serving on the Springs board, but through a variety of projects where the goal was to benefit the Golden Strip. It has been my privileging to be associated with the Springs, and wish them nothing but the best.
Tim Brett
As a long-time member and former Chairman of Greenville County Council, and as someone who has known the Howard family for years, I want to say how proud I am of the Springs when it comes to serving the needs of our community.
From the way their family-oriented staff cares for residents, to the way they take care of the facility, the Springs is an extraordinary! What really stands out is how they make guests and their families feel loved. It's not just a place to "park" someone, it's a family-run business that makes every guest and family member feel like they are all one big family.
The Howard's and the Springs staff are constantly finding ways to improve the programs, the facilities and the care they give. It's a wonderful asset for the entire Golden Strip area, and when I need that type of care I'm going to the Springs.
Butch Kirven
As Funeral Home owner know how important it is to care for our family and loved
Funeral home owner. Can't do it right now. Tim to send him an email to coordinate a time.
Andy Byrd
The Springs proved to be the very-best decision we could have helped my in-laws make. At first, they were not too thrilled about going to Assisted Living, but after the first couple weeks they loved it, and could not have been happier. They spoke to their friends and neighbors about the beautiful surroundings and how caring and friendly the staff were. My father-in-law was a career Army Officer who served in WWII, Korea, and Vietnam. He and his wife, Jessie, traveled the world, and only complimented places that were way above expectations, and The Springs always was! We love the Springs and recommend it to anyone looking for a great place to live.
James DeWitt
Former Springs Administrator for almost 20 years
My late husband Ralph was very involved with the Springs, especially during his tenure as Mayor of Simpsonville. He not only helped Hunter Howard negotiated the purchase of the newest wing, but served on the board for 18 years. Ralph felt it an honor to have been some small part of their success over the past 20 years.
We have had a lot of friends become residents of the Springs, and we would visit them frequently after church, taking church tapes and CDs. These friends and their families have had nothing but good things to say about the Springs. We heard compliments about how clean and nice the facilities were; how great the dining experience was; how the Howards were involved on a personal and daily basis, and, how their manager Jim Dewitt loved all residents and went out of his way to make them feel at home.

Marion Hendricks
Many friends have been at the Springs
It has been my honor to participate on the Advisory Board for The Springs Simpsonville. Long before this present opportunity, Hunter and Martha Howard have shown why The Springs has become such an integral family and community home for the Golden Strip.
During my tenure at First Baptist Fountain Inn continuing through the present, our members we served at The Springs have all sung the same chorus of praise and thanksgiving for the care, love and concern they received during their stay and residency. I have visited many times over the years and always found a joyous and family spirit from residents and staff. Hunter, Martha, and the entire team have done a wonderful work in making The Springs a home.
What an honor to celebrate with them on this 20th anniversary.
Van Broad
I'm blessed to know the Howard family and to have watched the Springs succeed and grow over the past 20 years. Besides serving on the advisory board, I've had aunts and friends from church stay there. My mom even stayed there briefly.
They take great care of the residents, go out of their way to make the overall experience there fantastic, and are always coming up with new ways to make things nicer for the people who live there. They keep improving. Adding new things, like the deck.
When I think of the Springs, the words "loving, caring and true friends" come to mind. All the people that work there are that way. The young people there are very energetic; and do a great job of getting the residents involved in activities. That goes a long way in helping to make the stay even more enjoyable.
Sandra Greer Rummell
Two Aunts stayed there and several friends from church
Theresa and I would just like to thank you for your expert management of The Springs and the COVID crisis — being in the food industry for 20 years I understand working with people is never easy , especially handling family members .. we saw mom this morning and we know that she is loved and cared for by you and the staff . She was so excited – she wore herself out !! LOL . At some point COVID will be somewhat under control – but till then thanks for protecting mom and other residents
Regards
West and Theresa Goewey
Mother is current resident… 100yrs old
Ardel Pennington
Resident Ardel Pennington is an ardent reader and enjoys beautiful, scenic views. At The Springs, we have a vast library of books to choose from as well as a plethora of gorgeous, scenic views around our campus.
Peggy Robertson
Peggy Robertson, daughter of The Springs at Simpsonville's longest tenured resident, shares her experience with our Friends for Life program. She highlights our careful dedication to low staff turnover, and how special that makes our residents feel to develop lasting bonds with their caregivers.
Angela McCarthy
Angela McCarthy, niece of a resident, notes our family atmosphere and how much The Springs feels like home. With our engagement programs, we seek to develop individual care plans that allow each resident to stay engaged in the ways that they are able.
Mary Sloan
Resident Mary Sloan knows that idleness is the devil's workshop. At The Springs, we have a wide variety of activities to ensure that our residents stay active and engaged with both their home here at the Springs, and with the community around them.