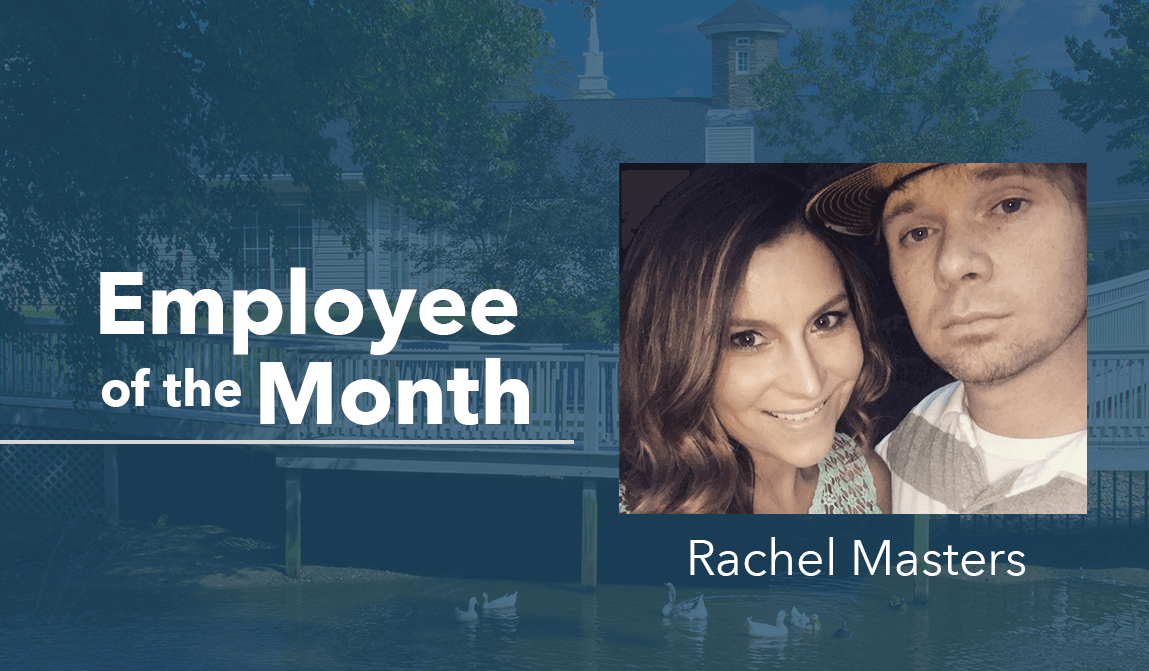 Rachel Masters – Employee of the Month
Reading Time:
2
minutes
The Springs at Simpsonville's March 2020 Employee of the Month is one of our fabulous caregivers, Rachel Masters! Rachel is a native to Simpsonville, South Carolina, and though she lived in Mauldin, as well, she is happy to be working here at The Springs in her hometown.
Rachel graduated from Hillcrest High School in 2003. She married her husband, Caleb, not too many years later. They met at the Fork Shoals YMCA and have now been married for 13 years. Caleb and Rachel have three beautiful boys, Malachi (13), Cohen (9), and Bodhi (2). They also have two dogs named Patch, a pitbull, and Spider, a husky. Rachel is extremely proud of her boys and counts them as the best thing in her life.
Rachel also strives to live a compassionate lifestyle. She is very passionate about being a vegan and raising her children as vegans, too. In her free time, she loves to be outside, ride bikes, walk, and read. Rachel has been at The Springs at Simpsonville now for three years. She originally decided to go into the caregiving field after caring for her own grandmother. She realized that she had a passion for working with elderly people and now, here she is! Rachel's favorite thing about working with the residents is getting to swap stories about their families. She says that it brings both of them happiness and she loves getting to make the residents smile. The story that she says makes her smile the most is when a resident accidentally ran over her foot in her electric wheelchair. She said that always gives everyone a laugh!
"Rachel has always been a great caregiver. She has such a kind compassionate heart. All of our residents love her. She always has a smile on her face and you can see she genuinely loves to work with our residents. She is also a trainer for our new employees. This role can be tough at times, but she has taken it on with no questions asked. Each employee she has trained has requested to work with her and love her work ethic. She is always approachable and a good example of what a great caregiver is." – Katie Crotchett, Resident Care Director
The most important thing she feels she has learned while working at The Springs at Simpsonville is patience and empathy—both things that are evident in the care that Rachel provides.
We are so grateful that Rachel is part of The Springs family!