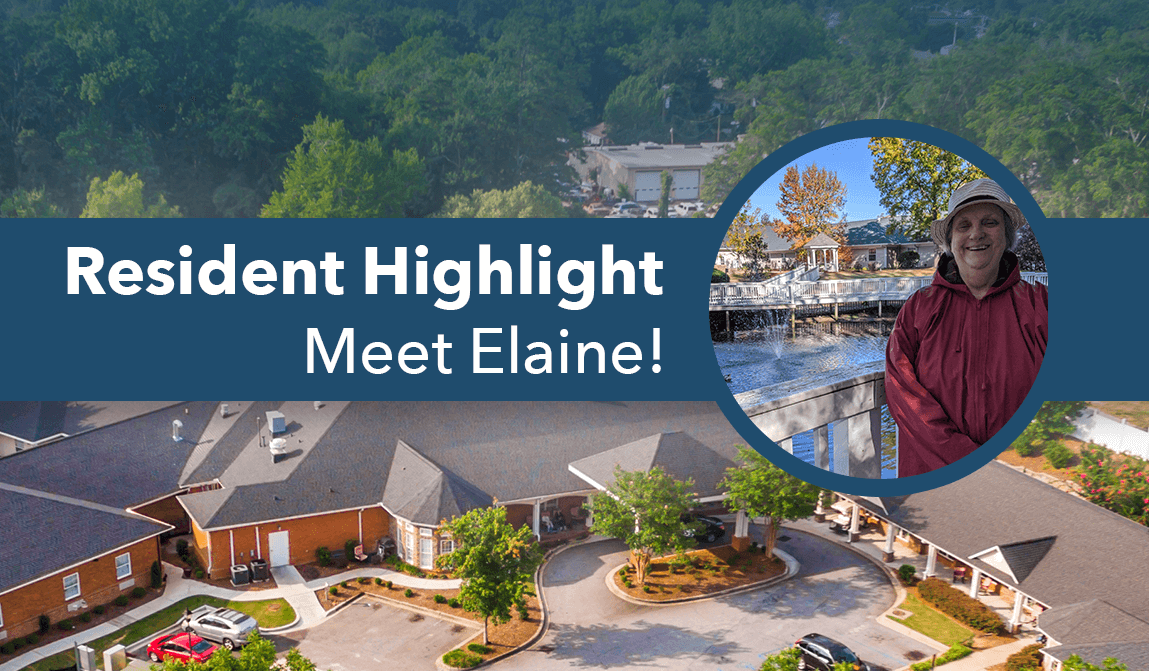 Elaine – Resident of the Month
Reading Time:
2
minutes
The Springs at Simpsonville's February 2020 Resident of the Month is Elaine! Elaine was born in the small southern town of St. Stephen, South Carolina. 
"It was a wonderful place to grow up and be involved in all the school and community activities. It was a place where people knew each other, loved each other and cared for each other," Elaine says.
She lived in St. Stephen until she went to Columbia College to get her Bachelor of Arts degree. While in college, she met her husband, Rev. Dr. "Wash" IV. Once she graduated, they married and moved into their first home on the Isle of Palms, where Elaine taught at Sullivans Island Elementary School.
Later in life, her husband became an ordained United Methodist Minister in the South Carolina Conference, and Elaine became a minister's wife while teaching English at a public school. During his tenure, they were appointed to churches in Grover, Saluda, Simpsonville, Greenville, Charleston, and St. George. Elaine considers it a wonderful experience to be a part of so many lives from her church families to her students. She still considers them all family!
Elaine went on to get her Master's in English from Furman University, where she finished with academic honors and has since completed most of her doctoral work in English and taught as a professor at the University of South Carolina.
Rev. Wash and Elaine have one son, Rev. Dr. W. "Webb," V., who followed in his father's footsteps. Their son is now serving as Senior Minister at Mauldin United Methodist Church with his wife, Shannon, who is a professor at the University of South Carolina. 
"I have a wonderful daughter who holds a Master's of Divinity Degree along with a Master's Degree in Photography, and her husband owns and is CEO of a company involved in cancer research. I have five grandchildren and three great-grandchildren. I am so blessed, thankful, and gracious for my wonderful family and friends," Elaine says. "Oh, and how could forget our cat, Bossy, and our Boston Terrier, Buddy!"
Elaine moved to The Springs at Simpsonville this past year [2019] and is so grateful to have found another beautiful, caring, loving family!
"I feel safe, secure, cared for, and loved here at The Springs. Having had two very short attempts at other facilities, I can truthfully say I have found a home. I appreciate the personal attention, the planned activities, the fellowship between residents and staff, and knowing I am cared for and loved. The staff keeps my family appraised regularly my conditions, and I get the care I need. I love it when the children and the animals visit. It reminds me of how fortunate I am to be part of a real family that cares."
Elaine is incredibly proud of her caring, loving family. She always knows that they are on her team, and she is on theirs. Also, Elaine is extremely grateful for the opportunity to teach and be a part of the learning experience for so many students. Being able to play an instrumental role in someone's education, for her, is the most rewarding experience a person can achieve. Lastly, Elaine is so proud that God has always been a part of her life and the lives of her family members. She says the one reminder she offers to everyone are the words that her husband said at the close of every church service: "Greater than the power that holds us down is the power that lifts us up."
We are so grateful for Elaine's faithful life and that she has chosen to call The Springs her home!