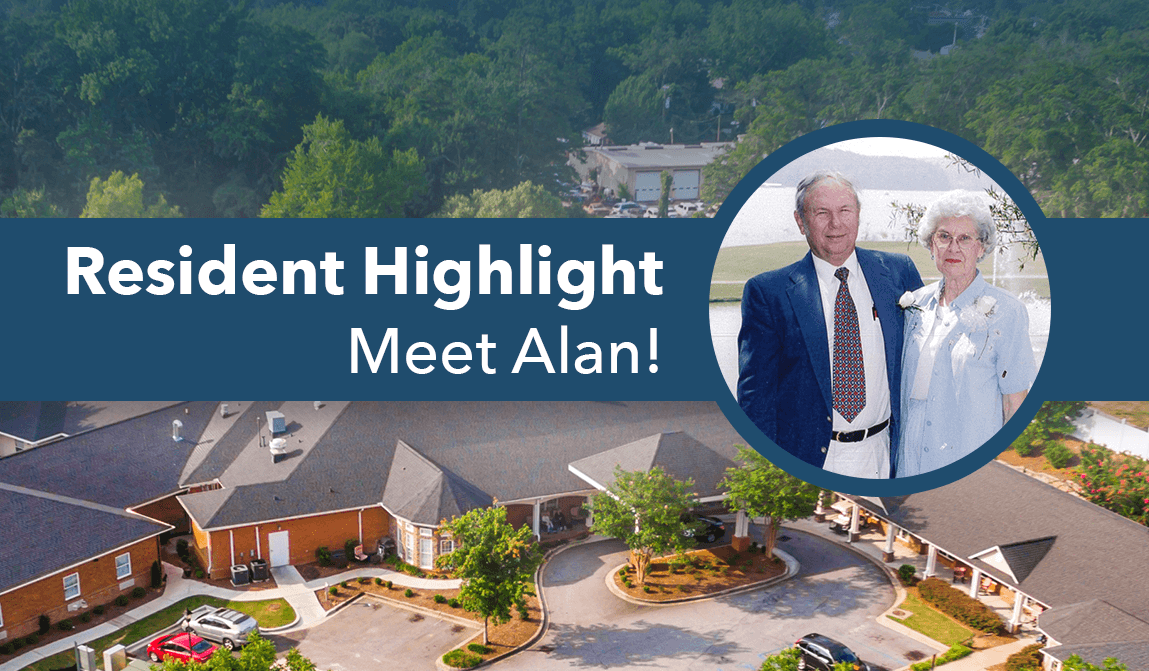 Alan – Resident of the Month
Reading Time:
2
minutes
The Springs at Simpsonville's January 2020 Resident of the Month is Mr. Alan! Alan was born in Seneca, South Carolina, but lived a lot of his younger years in Winnsboro, SC.
He went to Keowee High School before going off to college. Alan attended Clemson University and graduated in 1953 with a degree in Agronomy, which is the study of plants, soils, and basic agriculture. He married his wife, Betty, on August 22, 1952, and they had one son, Tyler.
After graduation, Alan began working for Clemson in Winnsboro for 22 years. He was eventually promoted and moved to Walhalla to their county extension office, where he continued for 12 more years. In his job, Alan assisted farmers with any problems they had in crop rotation and homeowners with insect control. Alan said he had the best job he could have ever asked for and was so proud to have worked for his Alma Mater for 33 years. He enjoyed working with farmers in his state and learning how to help them excel in crop production.
Alan retired from this job in 1986, but still owned 100 acres of land in Oconee County. It had been his childhood dream to own his father's farm, and this dream came true! His favorite free time activity has always been tending to his vegetable garden and driving his gator around his extensive property.
Alan is also incredibly proud of his marriage to his wife, Betty. They were married for 54 years before she passed away at 78 years old from ovarian cancer.
Alan has been a resident at The Springs at Simpsonville since May 2019. "I'm in much better health now that I live at The Springs," Alan says. "They keep such a close watch on my health and treat me immediately if I need help with anything. Overall, I feel as though the care is excellent here."
The staff adores Mr. Alan, as well.
"Mr. Alan is a very humble man with lots of wisdom. He is one of the friendliest residents we have at The Springs. He's always willing to give me life lessons about different things in life, whether it be advice about my car, making sure to plan for the future and investing money, and always ask me about building my house and wants to make sure I'm making right decisions. Mr. Alan treats everyone like a family member."
When asked what his one piece of life advice to someone would be, he answered, "Live each day to the fullest and have some kind of fun every day you live!"
Congratulations, Mr. Alan! We are so grateful that you are a member of The Springs family!