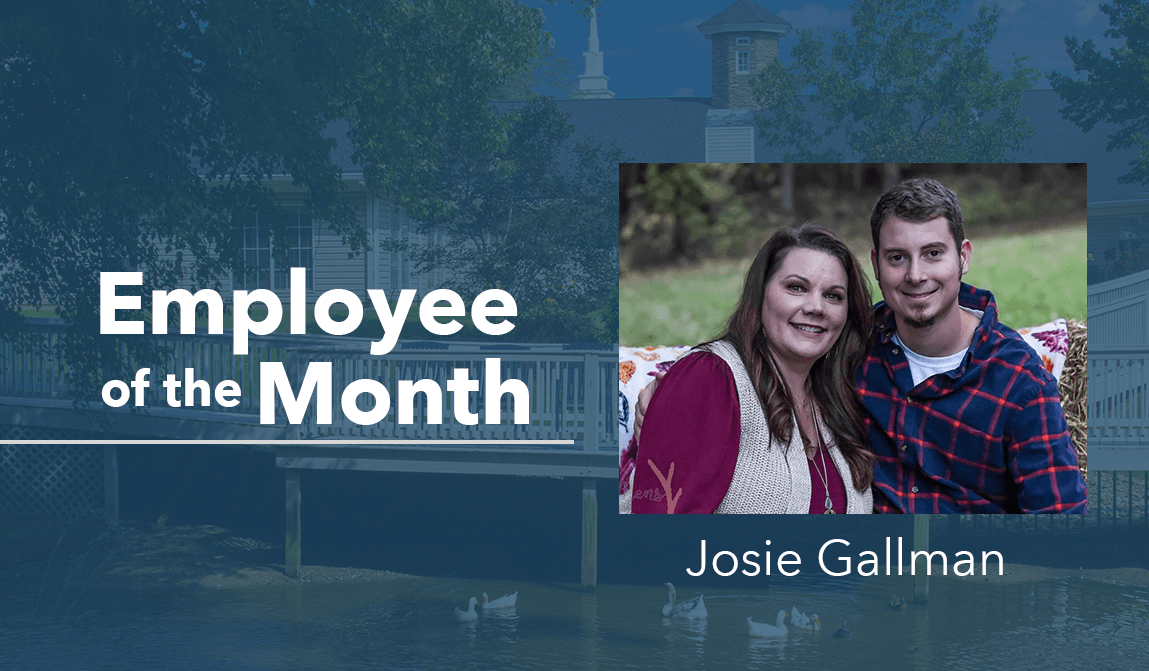 Josie Gallman – Employee of the Month
Reading Time:
3
minutes
Congratulations to our December 2019 Employee of the Month, Josie Gallman! Josie is one of the Life Enrichment Directors at The Springs at Simpsonville, a position she started about four months ago.
Originally, Josie is from northern Greenville, but she spent most of her adult life in Spartanburg before moving to Fountain Inn three years ago.
Josie attended Travelers Rest High School and after high school was lucky enough to a stay-at-home mom until her kids started school. Once her kids were in school, she started working at a restaurant/catering company, which she stayed for about ten years. Josie has always enjoyed event/wedding planning, so she worked for a few years doing that, as well, until taking some time off to help her husband get his business going. After that, she was ready to find her forever career!
Josie met her husband, John, while they were working together years ago, and they have three children—Hailey (22), Hunter (21), and Chandler (8). They also have two fur babies—Zeek (their 7-year-old black lab) and Zelda (a one-year-old German Shepherd).
Josie says, "We are a very active family and spend a lot of time at the racetrack. My husband and son both race, but it can be stressful up in the stands for this momma!"
Josie is extremely proud of her kids. She shared, "I was a young mom and of course, had those moments where I wondered if I was doing everything perfectly, but there is no perfect parent. You just have to love them and be there to help them along the way. Luckily, I have been able to watch them grow into amazing people."
She is also very proud of the marriage she and her husband have built and herself, for continually working hard to become the person she is today.
"I didn't go to college or have any formal training, but I was blessed enough to have a few amazing jobs working with great people who taught me so much and allowed me to grow in those roles. I had to overcome a lot of fear putting myself out there and not knowing if I would fail, but my family has stuck by me and encourage me so much. I try and spend every day finding joy and laughter, and never letting the bad days outweigh the good!"
Josie has been at The Springs now for four months. She had never worked in the senior living field before, but she felt like the role was a good fit for her and allowed her to have a career focused on having fun and enjoying life!
We asked Josie what her favorite thing about The Springs was, and she said,
"That is easy. I love it ALL! I honestly tell people all the time that I didn't realize how much I needed to be here. When I leave every day, my spirit just feels good. These residents have stolen my heart. I love bringing them so much joy each day. Whether we are just laughing in the halls, or dancing and singing, these residents have so much life! I enjoy coming up with new and fun ways to pass the time with them."
Josie said that one of her favorite memories so far was when they had to change plans quickly since outside entertainment was supposed to come and had to cancel at the last minute! "I didn't have anything planned for that moment, so I went around and gathered the folks that were waiting, and we started singing. They love music. Well, before you know it, we had created our own little party! We had a room full of the residents in the activity room, laughing and dancing. We were telling jokes and stories and just spending time together. Right before we left for dinner, one of the residents came up to me and said, "Well now, that was just fun! Here I thought I was too old to be having this much fun!"
Josie assures us all, "Trust me, you are never too old to have fun!"
The Springs at Simpsonville is so blessed to have Josie as a part of the family!