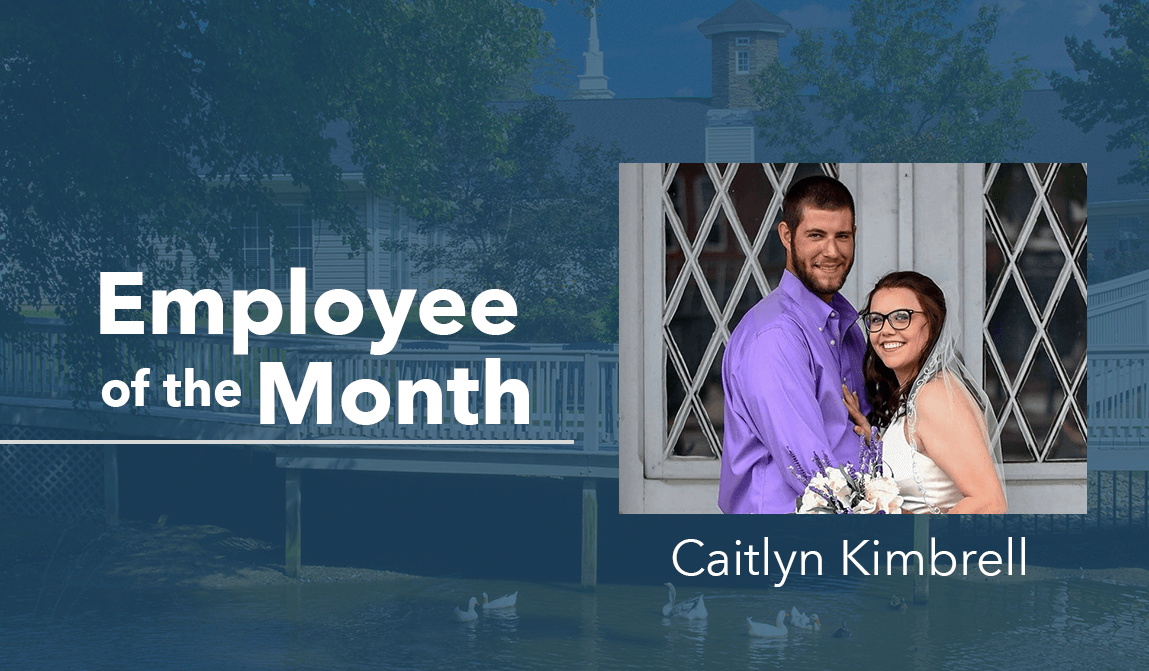 Caitlyn Kimbrell – Employee of the Month
Reading Time:
2
minutes
Our employee of the month for October 2019 is our fabulous resident care assistant, Caitlyn Kimbrell! Caitlyn is originally from Fountain Inn, South Carolina. She is the youngest of three girls in her family, all of which have names that begin with "C." Her two older sisters are Chelsea and Courtney! Caitlyn graduated from Hillcrest High School in 2016 and joined the team at The Springs in 2018.
Caitlyn has been married for one year to her husband, Jordan, who you can see in her picture from their wedding day. They have a home together in Fountain Inn with their two dogs, Bonnie, a border collie and, Harlow, a pointer. They don't have any children yet, but they are certainly hoping to start a family of their own one day.
Caitlyn is extremely proud of her husband and family and loves her job at The Springs. She helped take care of her own grandparents in the past and really enjoys having daily interaction with people, particularly the elderly. She feels like elders have a better take on life and she appreciates hearing their perspective on anything and everything.
In particular, she loves bonding and building relationships with the residents as she assists them with their everyday care needs. She loves hearing their stories about where they are from and hearing about all of the amazing things they did throughout their lifetime. She enjoys getting to recognize them for all that they have done. Caitlyn says that if there is one thing she has learned from working with the residents at The Springs it is to "Make it Count!"
She says, "They have taught me that in everything I do, don't do it halfway, but do it to the fullest! You only have one life to live and you might as well make it count!"
In her free time, Caitlyn enjoys collecting vinyl records and going to concerts. She recently drove to see Kiss in Charlotte, NC and she has also seen Def Leppard, Ted Nugent, Ozzie Osbourne, Phish, and Buckcherry. She feels as though she is a very old soul when it comes to music, and this is another way that she connects with the residents here at The Springs.
We are so grateful to have Caitlyn as part of the team and join us in wishing her congratulations on being the October Employee of the Month!