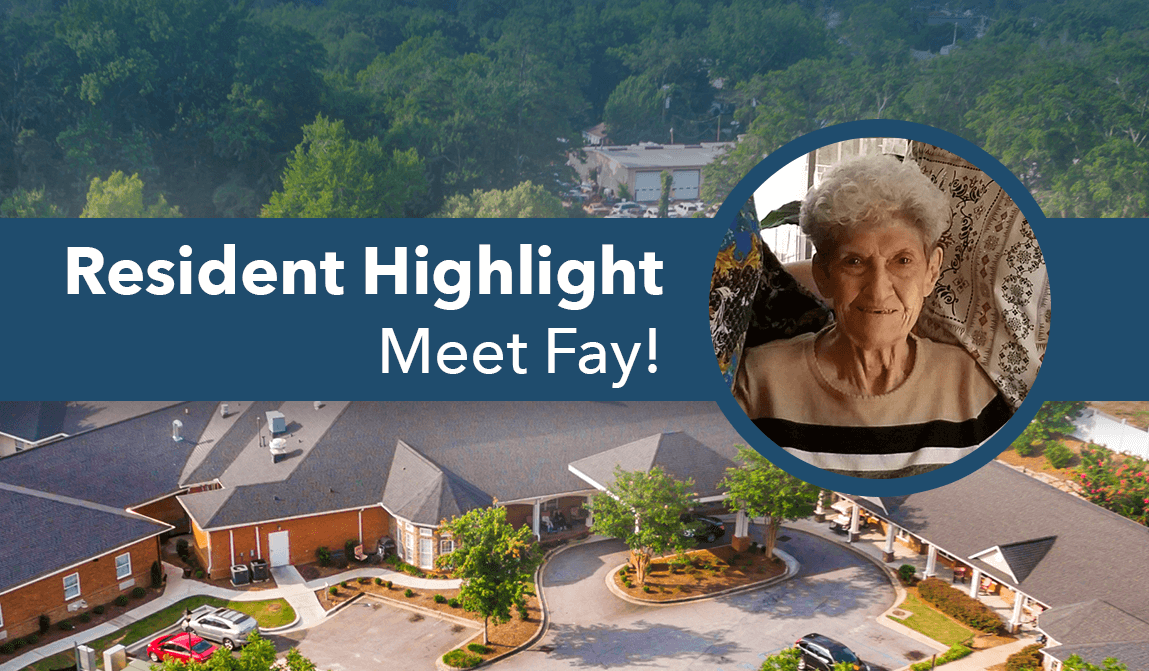 Fay – Resident of the Month
Reading Time:
3
minutes
The Springs at Simpsonville's August resident of the month is "Fay"! Junie or "Fay" was born and raised in Greenville, South Carolina. In her life she has lived in the Dunean Mill area, the Pelham/Greer SC area and then moved back to the Dunean Mill village until 1962. She and her husband moved their family to the Donaldson Center area where she lived until finally coming to reside here at The Springs at Simpsonville!
Fay is the only living daughter of the late Romane & Julia. She lived with her parents and two brothers at four Hale Street until she met & married her husband, Dennis. They were married for thirty-five years and had four daughters: Marilyn, Debra, Paula & Denise. She has nine grandchildren and fifteen Great-grandchildren and one Great-Great-Grandson that she absolutely loves with all her heart! She is so proud of all of her children and grandchildren.
Fay attended Dunean Elementary and Parker High School. She received many certificates from her training with Union Carbide/Amoco Chemical, where she worked in their polymer lab for over twenty-five years before retiring to care for her elderly parents.
Fay has always loved going to church and spending time with her church family at Conestee Church of God, where she is a member. We asked her daughter, Marilyn, about what Fay's most memorable life moment was, and she said, "Mama said that she will always remember the day she was saved. She was only ten years old when she asked the Lord to come into her heart. The second thing/things Mama said that she would always treasure as part of her story are the births of each of her four daughters and the birth of every grandchild, great-grandchild!"
Fay also loves animals, especially dogs. She has had many different breeds of dogs throughout her life. At one time, Fay was a breeder of AKC Cocker Spaniels. Over the course of her life, she had a Cocker Spaniel named Felton, a Dachshund named Greatta, and the last love of her life was her sweet Oreo. He was a black and white miniature Poodle/Shih Tzu mix. She loves it when trainers bring in therapy dogs or the family of other residents bring in dogs to visit!
She loves flowers and spent as much time as she was able planting flowers with her family and her friend Linda.
Her two favorite flowers are the purple Iris and her mother's Red-Hot Poker. There are two of these planted in the flower bed and flower pot outside the patio area at The Springs. She also played on the Union Carbide/Amoco golf, bowling leagues. She received many trophies to show off for her outstanding play and sportsmanship. She is also a lifetime member of the Women of the Moose that worked hand in hand with the Loyal Order of the Moose to give a helping hand to the needy. They also helped raise awareness for Mooseheart children's city & Moosehaven Retirement care facility.
Fay moved to The Springs at Simpsonville in February of 2018. She loves the two bird sanctuaries, one in memory care and the other in the atrium area outside the rehab center. She enjoys spending time with her great-grandbabies watching the birds eat, fly around and sit on their nest. She loves the people at The Springs at Simpsonville! The nurses/med-techs are kind and attentive to her needs and take good care of her. She likes that they all speak to her and know her by name. They take the time to talk to her and ask how she is doing.
Her daughter Marilyn also shared, "What makes our Mama so special is her unconditional love and caring heart for all of her children and their families. No matter your faults or trials, she was always there to support us in whatever was going on in our lives. She did this as we were growing up but was especially there for us all after we were grown children with children our own."
The advice that Fay would give to each of us is to LISTEN before you speak, speak SOFTLY, and choose your word carefully when you respond. Be kind to EVERYONE YOU at all times and to not intentionally hurt anybody's feelings.
We are so grateful for Fay's wisdom, her kind spirit, and that she is a member of our community at The Springs at Simpsonville!