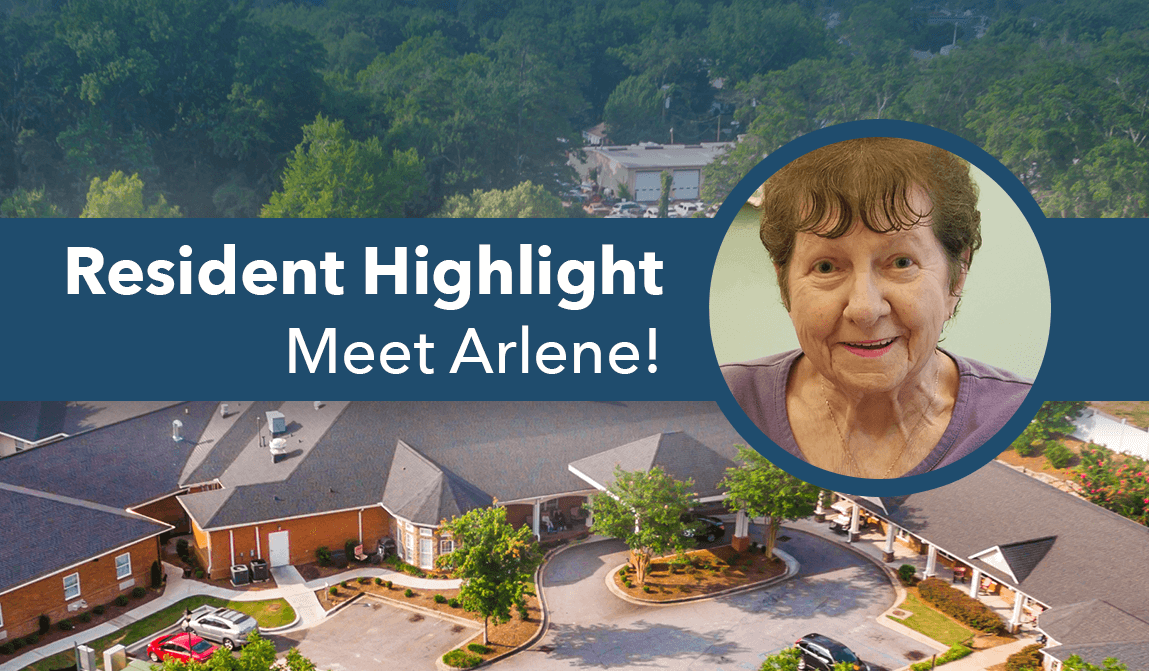 Arlene – Resident of the Month
Reading Time:
< 1
minute
Congratulations to our Resident of the Month for May, Arlene! The lady who lives and loves purple, that is how you are first introduced to Arlene. When you ask if purple is her favorite color she will ask if there are any others – all while smiling her infectious smile and laughing with her twinkling eyes.
Arlene was born about 90 miles north of Seattle, Washington in a small logging town near Deming. Her home was in the forest; it was originally a chicken coop that her parents converted to a home. Their second home, her father built and her mother wired! Arlene later worked in the banking and insurance industry spending over 10 years in Alaska. She thought her life was complete until she met Bud.
Bud was a "jewel" of a husband, and they did everything together, walks, drives, travel, playing guitar and organ and he even went with her to get her hair frosted the first time (it took 8 hours!). Bud eventually became the Vice President of Woolworth's, and he and Arlene raised 6 children together. They ultimately moved to Fountain Inn and lived in the "house on the hill."
Arlene loves to play the organ, and you may walk past her room and hear her still pumping out music. She has lived at The Springs for over 5 years now and she loves that she can be herself and walk around often.
Thank you, Arlene, for being a cherished resident at The Springs – you will find her wearing purple! To learn more about our colorful residents, be sure to subscribe to our blog to stay up to date!