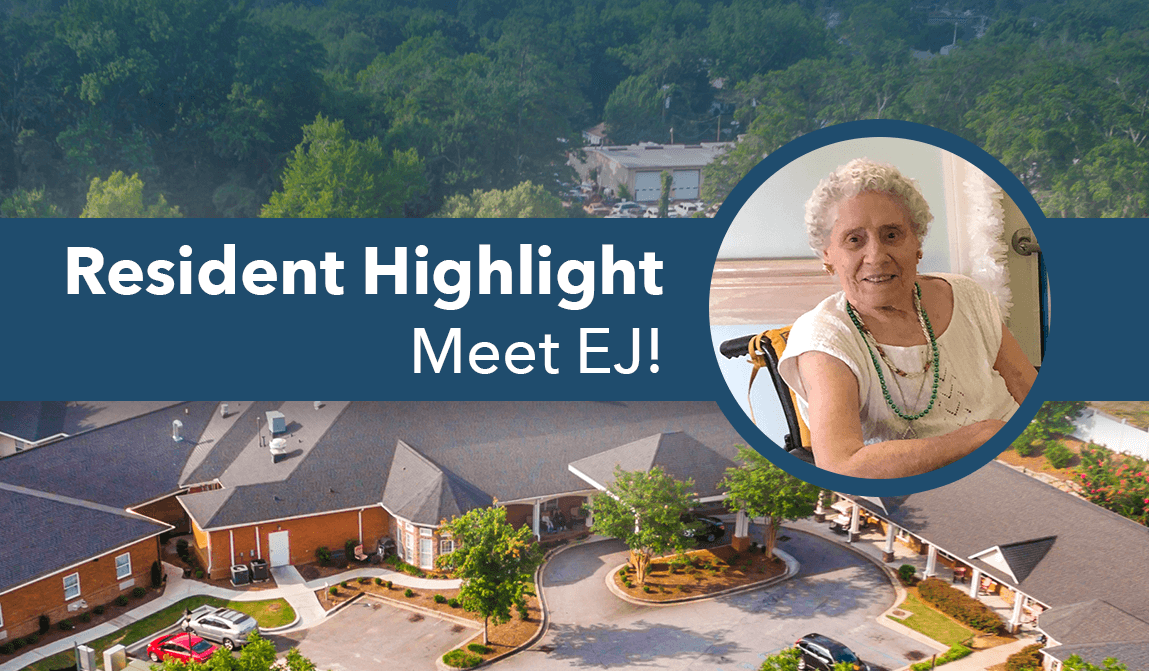 EJ – Resident of the Month
Reading Time:
2
minutes
The Springs at Simpsonville's May 2020 Resident of the Month is Ms. Emma Jane (EJ)! EJ is originally from Jacksonville, Florida, lived briefly in Lubbock, Texas, for college, and then Jefferson City, Tennessee.
She is the eldest of three children; her mother, Elizabeth, was a classical trained operatic singer (which gave EJ a love of music), and her father, Anthony, was an extremely talented musician and writer (giving EJ an appreciation of words and music).
EJ's husband, Jack, was a wonderful Pastor, Minister, Missionary, and Gospel Singer, as well as an avid golfer. She has two nieces, Cynthia and Deborah, and one nephew, Glenn – all of the Greenville, South Carolina, area. They are the ones who brought EJ to live with us at The Springs! 
EJ attended Robert E. Lee High School in Jacksonville, Hardin-Simmons College in Texas, Carson-Newman College in Jefferson City, Tennessee, and Florida State University. She holds a BA in Education and an MS in Education Teaching Certificate from Florida. 
The three things EJ is proudest of in her life are sharing the Gospel of Jesus around the world. She has physically traveled to ALL seven continents and more than 40 different countries. Teaching in the Jacksonville Public School System for more than 50 years (classroom teaching for 37 years and many more as a substitute and a library reader) and teaching English as a Second Language to Jiangsu University, Jiangsu, China. And, being a member of First Baptist Jacksonville, and maintaining her membership in their choir from 1953 until 2019 (when she relocated). 
EJ's favorite things to do throughout her life included:
Corresponding with missionaries and Gospel-based outreach programs and supporting them with encouragement and funding wherever possible 

Singing in the Choir 

Visiting shut-ins, nursing homes, hospitals, and other people who cannot get out

Traveling around the world
In EJ's words, one story from her life that she will remember forever is:
"I had a debilitating car accident in my late 20's. My friend and I were traveling to Tallahassee for our Master's Degree classes. On the way home, I lost control of the car; it flipped seven times and landed sitting upright. My friend was released from the hospital in a few days, but I was there for two months fighting for my life. I lost the use of my right leg, and from that point on, I used crutches." 
However, EJ's one piece of life advice to share is, "Don't let physical handicaps keep you from living a full life! "
EJ has been with us at The Springs for one year, and her favorite thing about The Springs is Bingo! We love having her as part of our family!
In her family's own words, regarding what makes EJ special:
"Her deep commitment to Jesus Christ." – Opal, sister

"Her "Oh well, that's life" mindset, determination, and giving out gospel tracts to EVERYONE she meets." – Glenn, nephew

"She is a go-getter, she's always on the go – she never let being handicapped stop her from doing anything." Deborah, niece

"She has always treated my siblings and me as if we were her own children – with love, pride, and prayers." – Cynthia, niece