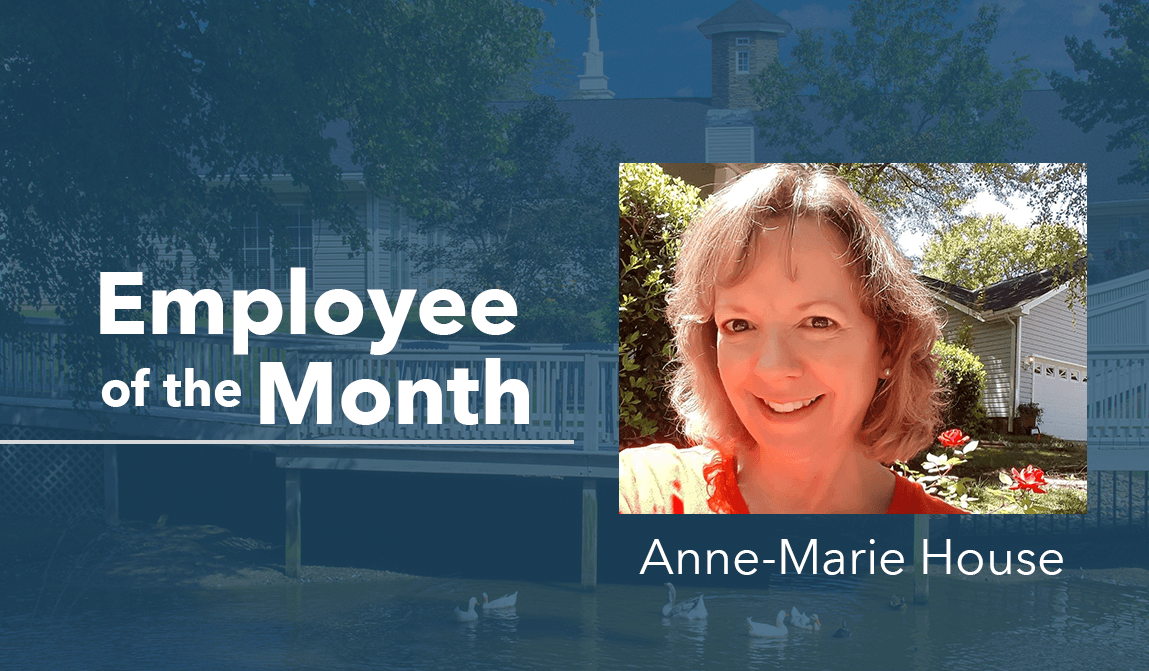 Anne-Marie House – Employee of the Month
Reading Time:
2
minutes
The Springs at Simpsonville's February 2020 Employee of the Month is Anne-Marie House! Anne-Marie is originally from Hartford, Connecticut, but moved to Massachusetts for college.
She received her degree in Elementary Education and proceeded to teach for 18 years. Anne-Marie worked in a variety of teaching capacities consisting of public school, Christian school, Montessori school, followed by homeschooling her own children.
While in college, she met her husband, Richard Earl House. Richard was a music professor, so they moved around for his job to North Carolina, Arizona, Virginia, Orangeburg, and now Simpsonville, South Carolina!
Richard and Anne-Marie adopted their two children, Andrei and Anastasia, "Anna," from Almaty, Kazakhstan. They also have a poodle mix named Cisco.
Off and on during college, Anne-Marie had worked as a CAN. Once her mother was diagnosed with Alzheimer's, she felt like the Lord led her back into the senior living world. Anne-Marie had a desire to learn more about memory care from watching her mother with the disease. So, after 18 years of teaching and homeschooling children, she decided to become a full-time CAN in a senior living community.
"To Anne-Marie, this is more than just a job. She comes in with a great attitude and loves working with our memory care residents. In her own free time, she made homemade play-doh and brought it in for the residents to use. She sings with the residents and spends one-on-one time with each of them to ensure they each feel loved. She has a kind and compassionate heart, which is what we hope to see in all of our caregivers here," says Katie Crotchett, Resident Care Director.
Anne-Marie says she has learned a lot of patience at The Springs. She loves the friendly staff, getting to know more about the residents each day, and sharing a good laugh with everyone at work each day. One of the residents reminds Anne-Marie a lot of her father, who passed away last June, and she loves spending time with that resident because he always makes her smile!
In her free time, Anne-Marie enjoys attending activities at Brookwood Church in Simpsonville and cooking and spending time with her family and her dog. She says, in her life, she is the proudest of being married to her music-loving, trumpet-playing husband for 25 years, teaching children of all ages for 18 years, and raising her two wonderful children.
We are so grateful that Anne-Marie's passion has landed her at The Springs, and are so excited to award her Employee of the Month for February 2020. Congratulations, Anne-Marie!