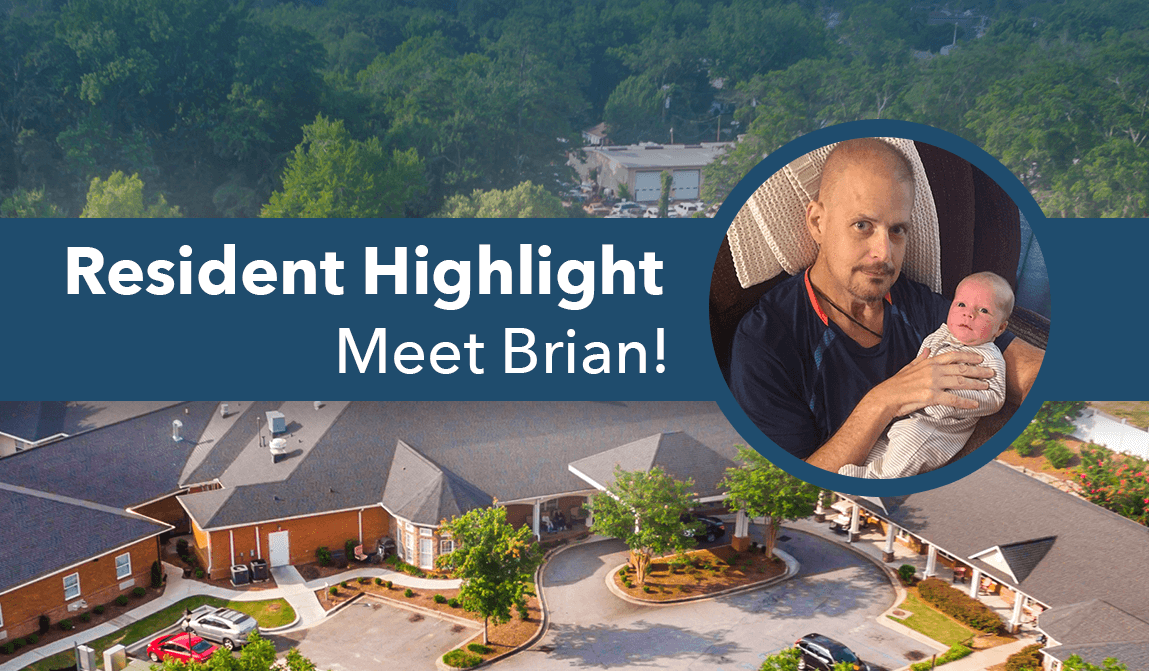 Brian – Resident of the Month
Reading Time:
2
minutes
The Springs at Simpsonville's November 2019 resident of the month is Brian!
Brian was born and raised in Simpsonville and Fountain Inn, South Carolina, but he has always considered Simpsonville his hometown. Brian has a daughter who is an Occupational Therapist and a son-in-law who is a minister. He is filled with pride from them and loves that his children have a heart for serving others. Brian has 1 grandson, Jude who "is his whole heart." Brian also has 2 amazing sisters, Allison and Paige, and he says that they are his heroes. Brian graduated from Hillcrest High School (Go Rams!) and has a BA in Christian Studies from North Greenville University (Go Crusaders!).
Brian is most proud of his relationship with God and his beautiful family. Gardening is Brian's true passion. He says after years of growing plants, it still amazes him how tiny seeds can grow into big, beautiful plants. Cooking is a close 2nd of passion for him, and has been known for trying to cook things up in his assisted living room!
Brian has lived at The Springs at Simpsonville for 8 months. His sister said: "My 'baby' brother moved into the Springs in January 2019 needing a little extra help in the independent care apartment. We had no idea he was within 2 weeks of a major health scare and lengthy hospital stay. Once returning to The Springs, Brian's health has improved rapidly through his determination to get better and the care received! Brian is back in an independent living apartment, having graduated from assisted living. I can't say enough good things about the staff at the Springs. I appreciate them more than I can put into words!"
Brian's favorite thing about living at The Springs at Simpsonville is the people. He says he has learned so much by getting to know the staff and residents. He feels like there is a lot of wisdom walking The Springs hallways.
A story Brian shared that he will always remember is this:
"One day, I was walking down the street on a very hot summer day. I passed a dead animal on the side of the road and it had the kind of stench that you just can't get out of your nose. An unforgettable odor! A little further down the road was a honeysuckle bush. That sweet unmistakable smell filled my nose covering up the smell of the dead animal. To me, it was a perfect example of life without God and life WITH God. He takes the dead and dying and turns them into something sweet and full of life!"
Brian's advice to everyone is to stop and count your blessings. Focus on what's good in your life. Learn to be content where ever you are in life. There is so much of life that is about attitude, so we should always stay positive! We are so grateful that Brian's positivity is a part of our family here at The Springs at Simpsonville!