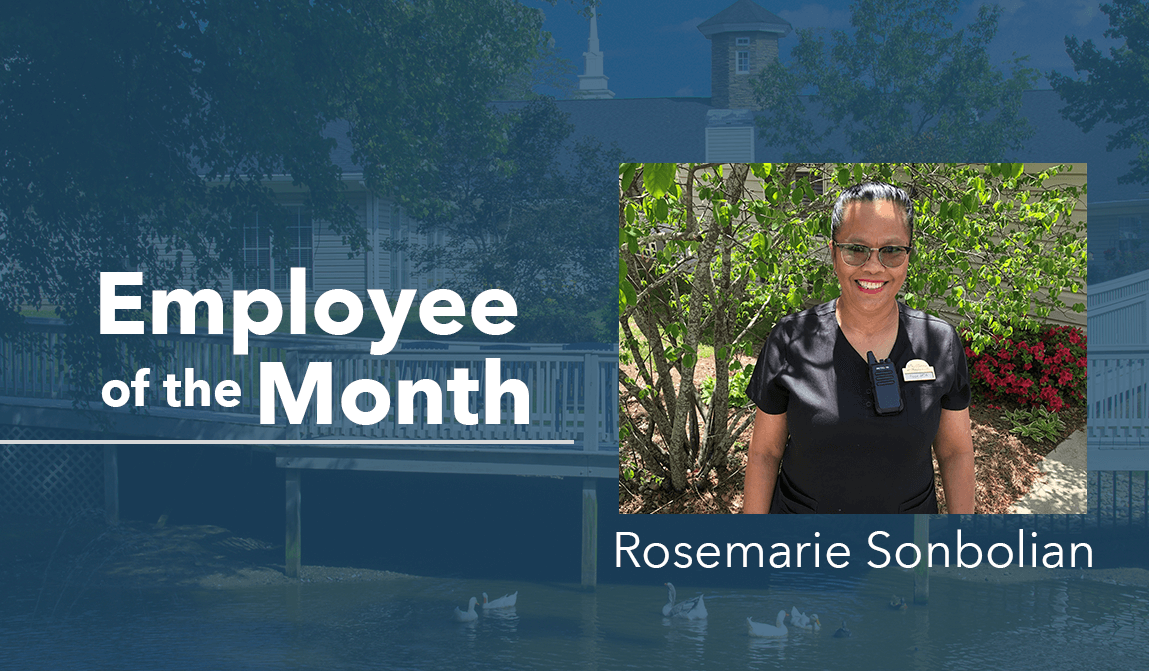 Rosemarie Sonbolian – Employee of the Month
Reading Time:
2
minutes
Our May Employee of the Month at The Springs is one of our fantastic care staff members, Rosemarie Sonbolian! We want to thank her for being an excellent employee and providing residents with exceptional care.
Rosemarie is originally from the Philippines, which is where she attended school. She moved to the US in 1994 and has been a CNA since 2002. She was licensed in New Jersey and said, "My parents are back in the Philippines, and I decided that if I wasn't there to care for them, then I could help people here care for their parents! I love taking care of people."
Rosemarie is very proud of her family and her pets. She has three beautiful daughters named Sarah, Shana, and Sharon. Most of her proudest moments involved her three girls and all that they have accomplished in their lives. She loved getting to cheer them on as they finished college, bought homes and got jobs! She also loves her golden retriever named Dollie and her cat named Peaches!
Rosemarie is known around The Springs for her cooking. She loves to cook for people and often makes a meal to bring in to share with The Springs staff members. She also enjoys gardening and going shopping in her free time.
Rosemarie has been at The Springs for three years now and says that there are so many things she loves about her job. She loves the residents because she enjoys having conversations with them and learning more about their lives. She also values and enjoys the people that she works with! The staff members at The Springs are all great coworkers.
Her coworker Danette Hall shared, "Rosemarie is one of the hardest workers we have at the Springs! She will always provide a lending hand when asked, and you can always count on her to be at work every day. She is also an excellent cook! She will cook big meals for the employees and spend her on time and money doing so. We are grateful to have her on our Springs Team!"
We are all grateful to have Rosemarie as part of The Springs family, so join us in wishing her congratulations!