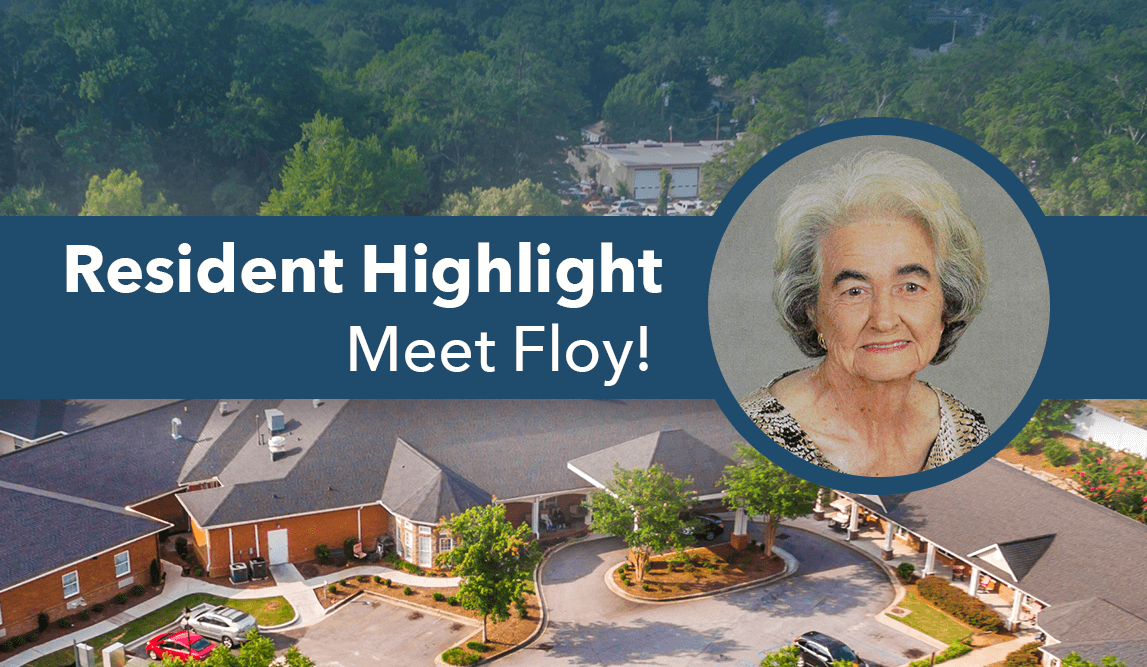 Floy – Resident of the Month
Reading Time:
3
minutes
Our January Resident of the Month is Floy! Floy has been a resident at The Springs since last January. She loves to go on bus rides, play games, and loves the exceptional food here!
Floy was born September 3, 1929. Daughter of Tommy and Lillie, Floy grew up about 10 miles north of Greer, SC. She had three sisters and three brothers and attended elementary school at Tyger I then went on to graduate from Jordan High School. After graduation, Floy went to work at Victor Mill and later Lyman Finishing and Printing. Floy married her high school sweetheart, Ben, on November 22, 1947, and they had three beautiful children: Elain, Donna, and Benny. She considered marrying Ben her most significant accomplishment in life. He was her life, and they adored one another.
Floy always loved to work in the garden and enjoyed canning some of the vegetables and fruits that she grew. She loved being a part of her church and would even throw dress up parties with the members of her Sunday School class, which she was the president of for many years. Floy was always fond of the written word and enjoyed writing stories and poetry that she shared with family and friends.
Congratulations to Floy for being our January Resident of the Month!
Here are two of her writings that she has shared with family:
My Daddy's Water Girl
When I was a little girl, I was my daddy's water girl. When he was plowing the ole mule I had to carry him water way down to the lower end of the field. Sometimes the ground was so hot and I was barefoot. I had to dig me out a hole in the ground and stand in it a little while to keep my feet from blistering. I would stand there a little while, then I would go on down to where daddy was plowing. I would try to get behind him because usually he was singing and I wanted to hear him sing. He didn't sing much, just mostly behind the ole mule. He didn't sing loud and it went something like this:
"Oh, they tell me of a home far beyond the sky, oh they tell me of a home far away. Oh, they tell me of a home where to storm clouds rise. Oh they tell me of an uncloudy day."
Then, he would turn his head and I knew he had seen me. He would stop the ole mule. I would hand him his water. He would take it in one hand and wipe the sweat from his brow with the other. He would drink his water then hand me the jar, grinning and said, "Thank you Flossie." I would take the jar and start back toward the house. When I got nearly to the barn I would see mama going towards the hog pen with a bucket of slop to feed the hogs. She was singing. She sang loud and she enjoyed singing. She went something like this:
"There's a land that is fairer than day, and by faith we can see it afar. For the Father waits over the way, To prepare us a dwelling place there. In the sweet by and by we shall meet on that beautiful shore. In the sweet by and by we shall meet on that beautiful shore.
A Special Valentine
I was sitting in the swing neath the old walnut tree,
Just about as lonely as anymore could be.
I felt so sad and all alone
Because so many of my loved ones were already gone.
As I sat real quiet and no one could I see,
I thought I could feel someone sitting next to me.
As I looked in the sky and began to stare,
I knew right then someone really cared.
As I sat real still the answer came to me.
It was Jesus who was sitting in the swing next to me.
We talked for a while,
And then he began to smile.
He looked at me and I could see
That he was the one who has been looking after me.
He was so nice and oh so kind.
I asked him to be my Valentine.
As we sat in the sing things began to look brighter
And by heavy heart seemed so much lighter.
So now when I begin to whine,
I feel so much better because I am his and he is mine.