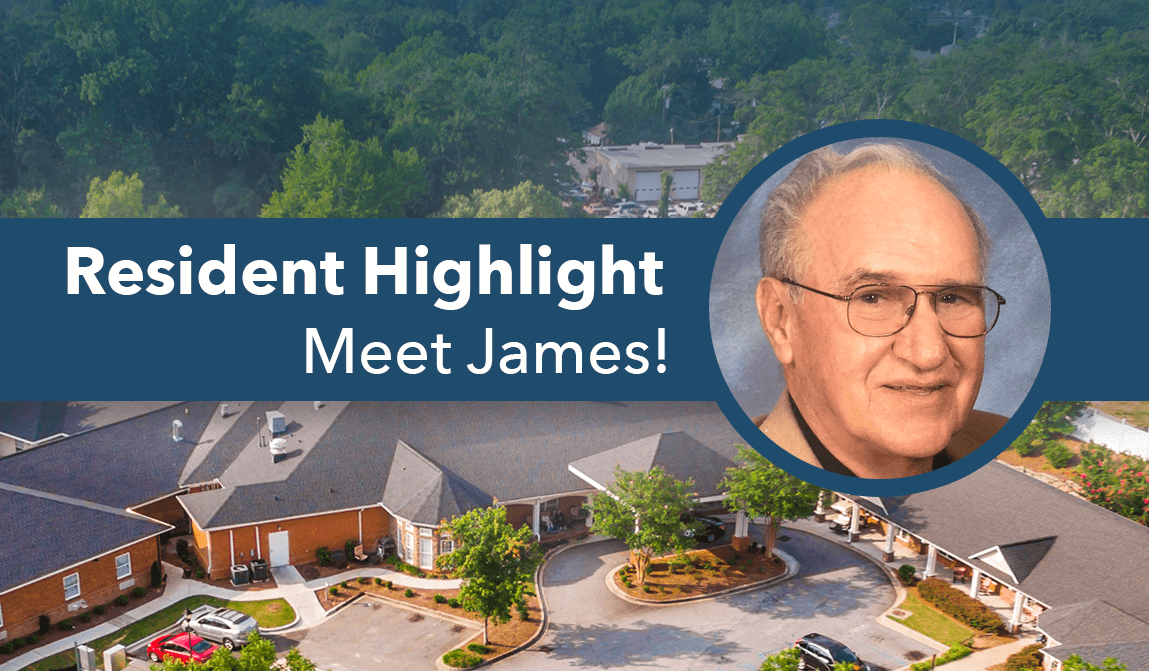 James – Resident of the Month
Reading Time:
2
minutes
James was born and raised in the Roper Mountain area of Greenville County. He attended Mauldin Elementary School and Mauldin High School. He loved playing baseball and was frequently caught being mischievous. He often tells the story of getting caught stealing watermelons from his grandfather's patch and how he would "plant" any coins he earned in hopes that he could grow a money tree.
James married his high school sweetheart, Louise, soon after high school. He and Louise were married 63 years and had three children – Vickie, Kathie, and Stan. James now has three grandchildren, eleven great-grandchildren and one great-great-grandchild.
Soon after getting married, James embarked on a 27-year Air Force career. He achieved the rank of chief master sergeant. He served two overseas tours – Saudi Arabia and Germany. He loved his Air Force duties and was once honored by the base commander with an honorary ride in an F-16. James also received an award for the role he played in routing top secret messages during the Cuban Missile Crisis.
After retirement, he took a management position with TAS communications, a telephone answering service. Ultimately, he purchased the Greenville, Spartanburg, and Columbia offices. He successfully grew and ran the company until his retirement.
James was an active member of Mauldin United Methodist Church. He served on many committees but was particularly proud of his role in fundraising, procurement and installation of the stained-glass windows and the main sanctuary renovation. In 2006 he and Louise were awarded the heritage award for their lifetime service and dedication to MUMC.
James also served on the city of Mauldin Zoning Board of appeals for over 20 years and as President of the Golden Strip Civitan Club. He was a member of the Board of Directors and Executive Board at Upstate Better Business Bureau. He was also President and on the Board of Directors member of the Southeast Telecommunications Association; and was a member of the Board of Directors of the International Assoc. of Telecommunication Companies.
James loved playing golf with his buddies and reading. He was always up for a good discussion on the topic of your choice, but he is most happy when surrounded by his entire family and believed that the louder the kids got, the happier they were. Needless to say, all of the kids love their Papa Jim. 25
James has been at The Springs at Simpsonville for four years but few people know that James can "wiggle" his ears and knows every verse to the song – "There is a hole in the bottom of the sea." He loves checkers so if you have a few minutes, play a game with him. We wish you good luck. You will need it!
To learn more about our extraordinary residents, please subscribe to our newsletter!