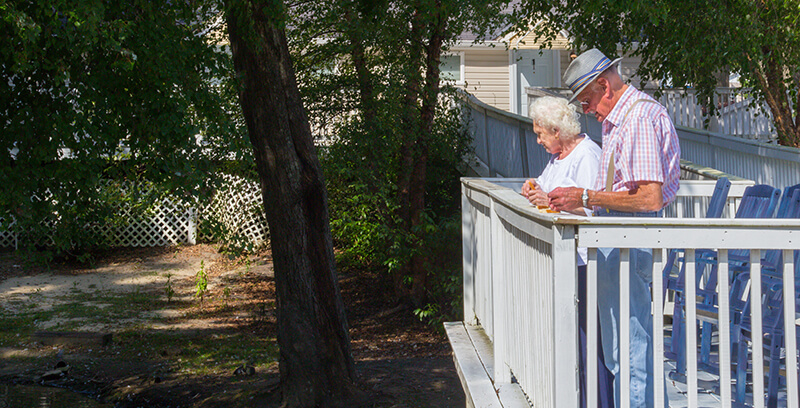 Assisted Living Vs. Nursing Home: What Should I Choose?
Reading Time:
2
minutes
A nursing home and assisted living community are practically the same, right? Wrong! While they both set out to provide the best care for seniors with their common goals and services, they have quite a few differences that most don't see at first glance. If you are looking at your senior living options for a loved one that struggles with the day-to-day tasks and cannot be left alone or maybe they are able to care for themselves but still need a helping hand in some areas, it is important you make the right decision. Let's explore the differences between a nursing home and an assisted living community and determine what is the best fit for your loved one.
The first thing you'll notice when entering an assisted living community in comparison to a nursing home will be the "homey" and welcoming atmosphere. Whether it be the elegant dining rooms, big brick fireplaces, or the on-site beauty salon and barbershop, communities like us, The Springs at Simpsonville, want to make it feel like you never left home. Although nursing homes have come a long way in recent years, they still have to provide a safe and healthy environment for their residents who are recovering from surgery or need to be closely monitored due to their state of health. The atmosphere can be a little subdued and may be considered more "dreary".
Most assisted living communities allow for residents to decorate their apartments as they wish. By allowing them to furnish it, with the help of family and staff, hope is encouraged in continuing their memories of back home and feeling more at peace with their transition while still giving them a feeling of independence and freedom. Unlike nursing homes, most residents are sharing a room with other residents so the staff can provide the medical attention and care they need.
Residents living in assisted living can experience activities that they typically would participate in if they were still living at home like a visit to the library, a game of pool, or a joy ride around town. While nursing homes still promote keeping an active lifestyle, it may just be on a smaller scale. In assisted living communities, you can find residents walking along trails outside with assistance from staff or participating in cooking classes, music programs, and enjoying story time.
If your loved one is in need of medical assistance frequently throughout the day, that could be a determining factor when choosing between the two. Assisted living provides a wide variety of the same services as a nursing home, like staff available 24-hours a day, help with bathing, getting dressed, and prepared meals. But if you in need of medical care around the clock, you may want to look at a nursing home to get the most beneficial care.
The ultimate goal is that you make the best decision about senior care for you or your loved one. The Springs at Simpsonville would love to answer any questions you may have or give you a tour of our community.