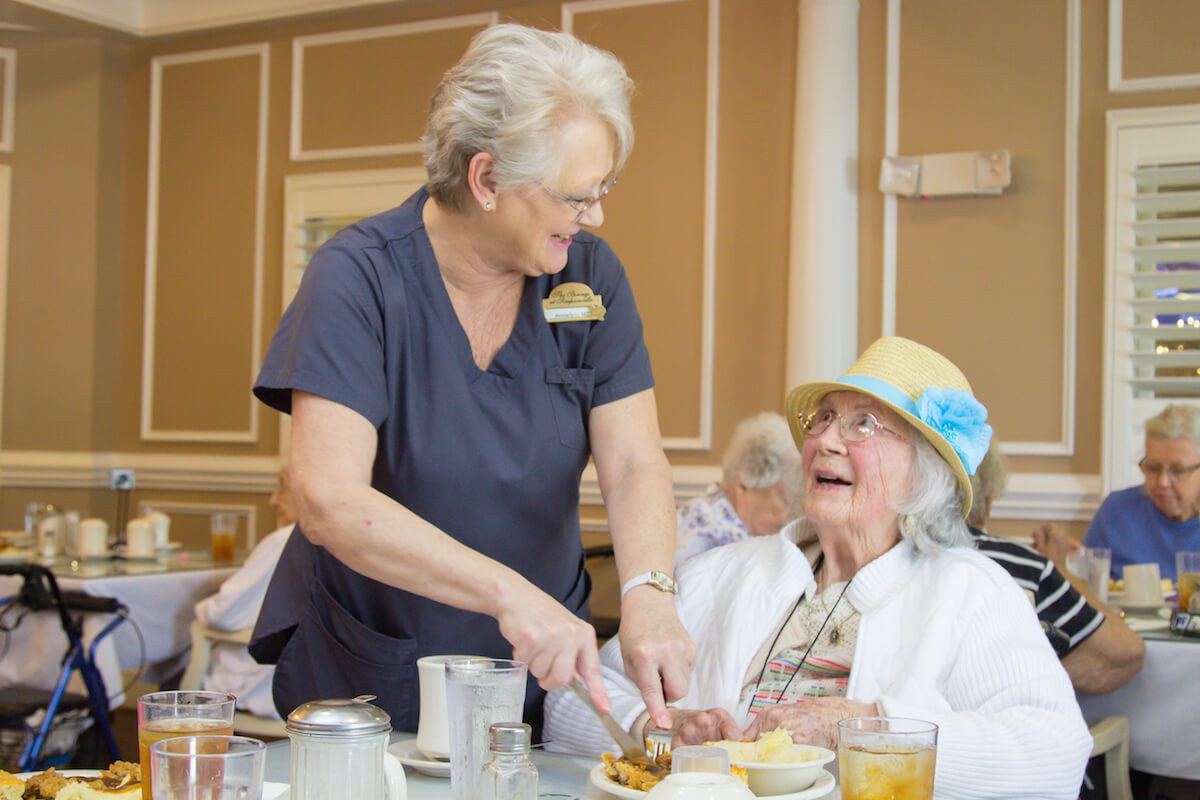 4 Healthy Recipes to Make for Mother's Day
Reading Time:
4
minutes
Is your mother in assisted living in Mauldin, South Carolina? Is your mother in assisted living in another city or state? If you answered yes, your mother is most likely having caregivers prepare food for her every day. A great gift for your mom on Mother's Day would be to have her children prepare her a special gift. When you were a kid, did you ever wake up early to make mom breakfast in bed? Well, The Springs wants to encourage you to continue to make those sweet gestures – even as an adult! That is why we have provided four healthy recipes to make for your mom, or even with her, this Mother's Day!
This dish is a perfect springtime breakfast that would be great for breakfast in bed or a sit-down meal at the table. These omelets are easy to make and also healthy thanks to the veggies! If you want to add more vegetables, we would suggest spinach, carrots, and onions.
Ingredients
1 teaspoon + 2 tablespoons vegetable oil divided
1 cup fresh asparagus spears trimmed and cut into 2-inch pieces
1/2 cup halved cherry tomatoes
6 large eggs lightly beaten
1/2 teaspoon salt
1/4 teaspoon pepper
1/2 cup crumbled feta cheese divided
Directions
In a medium skillet over medium-high, heat 1 teaspoon oil until shimmering. Add asparagus and cherry tomatoes and sauté, stirring occasionally until asparagus is tender and cherry tomatoes have burst. Remove from skillet and set aside.
Gently beat eggs with salt and pepper. Set aside. Over medium heat, heat 1 tablespoon oil in a skillet until shimmering. Pour half of the egg mixture into skillet and let stand until edges just begin to set. Gently lift set edges and tilt pan to let uncooked egg flow underneath. Repeat several times until eggs are set.
Arrange half of the asparagus mixture on half of the omelet and top with 1/4 cup feta cheese. Gently flip un-filled half of omelet over the filling and let it cook until cheese is melted about 3-4 minutes. Transfer to a serving plate.
Repeat with remaining oil, egg mixture, asparagus mixture, and cheese to make a 2nd omelets. Serve omelets warm immediately.
This healthy take on a BLT is perfect for a nice lunch with mom. You can prepare it and bring it to mom in assisted living or pre-cook the turkey bacon, croutons and garlic and throw it together in mom's room. Not only will this "salad" taste great, but you won't even miss the sandwich!
Ingredients
12 oz. thick-cut bacon, cut into 1″ pieces (substitute for turkey bacon)
2 c. ciabatta bread, torn into small pieces kosher salt
Freshly ground black pepper
2 cloves garlic, minced
3 tbsp. balsamic vinegar
5 oz. arugula
1 lb. very ripe tomatoes, mixed varieties, and sizes, cut into bite-size pieces
1 small red onion, thinly sliced
1/2 c. chopped fresh parsley
1/4 c. torn basil leaves
Directions
Heat a large sauté pan over medium heat and add turkey bacon in an even layer. Fry until crisp, about 5 minutes. Transfer bacon using a slotted spoon onto a paper towel-lined plate and set aside.
Make croutons: Return pan to medium heat and toss bread season with salt and pepper. Toast until golden brown, about 5 minutes. Transfer croutons to a bowl and set aside.
Add light oil to sauté pan and toss with garlic over medium heat. Sauté until garlic is softened and fragrant, 1 to 2 minutes. Remove from heat and stir together with balsamic vinegar, salt, and pepper. (Pause at this point if bringing to mom's place)
Add arugula, tomatoes, red onion, parsley, and croutons; toss together with dressing. Top with bacon and basil and serve immediately.
If your mom is in assisted living invite her over for a lovely Mother's Day dinner at your place. You and mom can even prepare the meal together chopping ingredients and laughing about family anecdotes. This dish is colorful, healthy, and filling so everyone is sure to love it!
Ingredients
Juice of 4 limes, divided
1/4 c. extra-virgin olive oil
1/4 c. plus
1 tbsp. chopped fresh cilantro
2 tsp. honey kosher salt
1 lb. boneless skinless chicken breasts
2 c. chopped pineapple
1 avocado, diced
1/4 red onion, diced Freshly ground black pepper
Directions
Make Marinade: In a large bowl, whisk together the juice of 3 limes, olive oil, 1/4 cup cilantro and honey and season with salt.
Add chicken to a large Ziploc bag or baking dish and pour over marinade. Let marinate in the refrigerator at least 3 hours, or up to overnight.
When ready to grill, heat grill to high. Oil grates and add chicken, then grill until charred, 8 minutes per side.
Meanwhile, in a medium bowl, stir together pineapple, avocado, red onion, remaining lime juice, and remaining tablespoon cilantro. Season with salt and pepper.
Spoon salsa over chicken and serve.
These cookies will make your mouth water, but will not break your diet, so save your cheat meal and get ready to bake some cookies with mom! You will not believe how great these paleo cookies are! Made with honey and almond butter, you will also be surprised by how good for you they are. You are sure to make guilt-free cookies and memories with mom with this recipe.
Ingredients
2 c. almond flour
1/2 tsp. baking soda
1/4 tsp. kosher salt
1/4 c. butter, room temperature
1/4 c. almond butter
3 tbsp. honey
1 large egg
1 tsp. pure vanilla extract
1 c. semisweet chocolate chips
Flaky sea salt, for garnish
Directions
Preheat oven to 350º and line a baking sheet with parchment paper. In a large bowl, whisk together almond flour, baking soda, and salt. Using a hand mixer, add butter, almond butter, honey, egg, and vanilla and mix until combined.
Fold in chocolate chips, then add tablespoons of batter to a prepared baking sheet. Sprinkle cookies with flaky sea salt.
Bake until edges are golden, 13 to 15 minutes
Follow these four healthy recipes to ensure great Mother's Day meals with your mom. Assisted Living in Mauldin, SC may also offer some Mother's Day dishes to eat together, but there is fun in preparing a meal with your loved ones. The Springs wants you to spend time with your mom this Mother's Day and every chance you get.
To learn more senior living healthy habits, tips, and hints, subscribe to our blog!