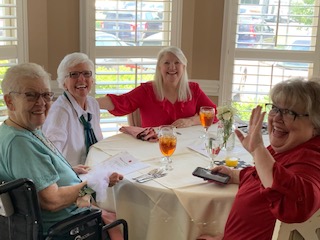 Tribute to All Our Moms and Cinco de Mayo at The Springs
Reading Time:
2
minutes
May has been off to a busy start for The Springs at Simpsonville. We kicked off the month with a wonderful Cinco de Mayo party for all the residents. We had tacos, chips & salsa along with "virgin margarita's" on May 5th. The staff dressed up in their poncho's and sombreros and a great time was had by all!
Next we pulled out the stops to pay tribute to all our Mom's here at The Springs. We had a wonderful Mother's Day Brunch event on Saturday, 5/8. We had up to 2 family members per mom and we developed assigned seating for all the guests that honored all the social distancing guidelines. Our Mom's were each given a beautiful wrist corsage and a "MOMmosa" at the beginning of our brunch. From there the got their picture taken with their families in front of our Mother's Day backdrop. Next they enjoyed a live pianist playing all their favorite tunes and proceeded to pick out their own set of costume jewelry as a gift from The Springs. When the family went to their table for brunch, they found a beautiful picture of their Mom's hands with a brief customized story about what those hands had accomplished over the years.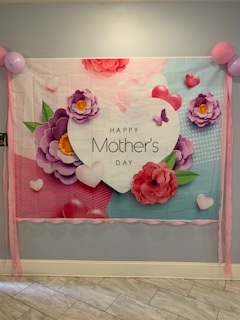 We developed the pictures on Saturday evening and gave each picture to our Mom's in a beautiful frame. Out goal was to make all our Mom's feel special, and I think it's fair to say we succeeded! The joy on their faces was simply priceless.
As we move further into May, we have plans for Memorial Day that include a tribute to all our veterans and a trip to pay our respects to a military cemetery. The fun continues into June as we build plans to celebrate all out dads for Father's Day!
We are so grateful to be able to finally welcome our families back in the building! Being reunited has been the very best medicine for every resident! There's nothing like being reunited with those you love!