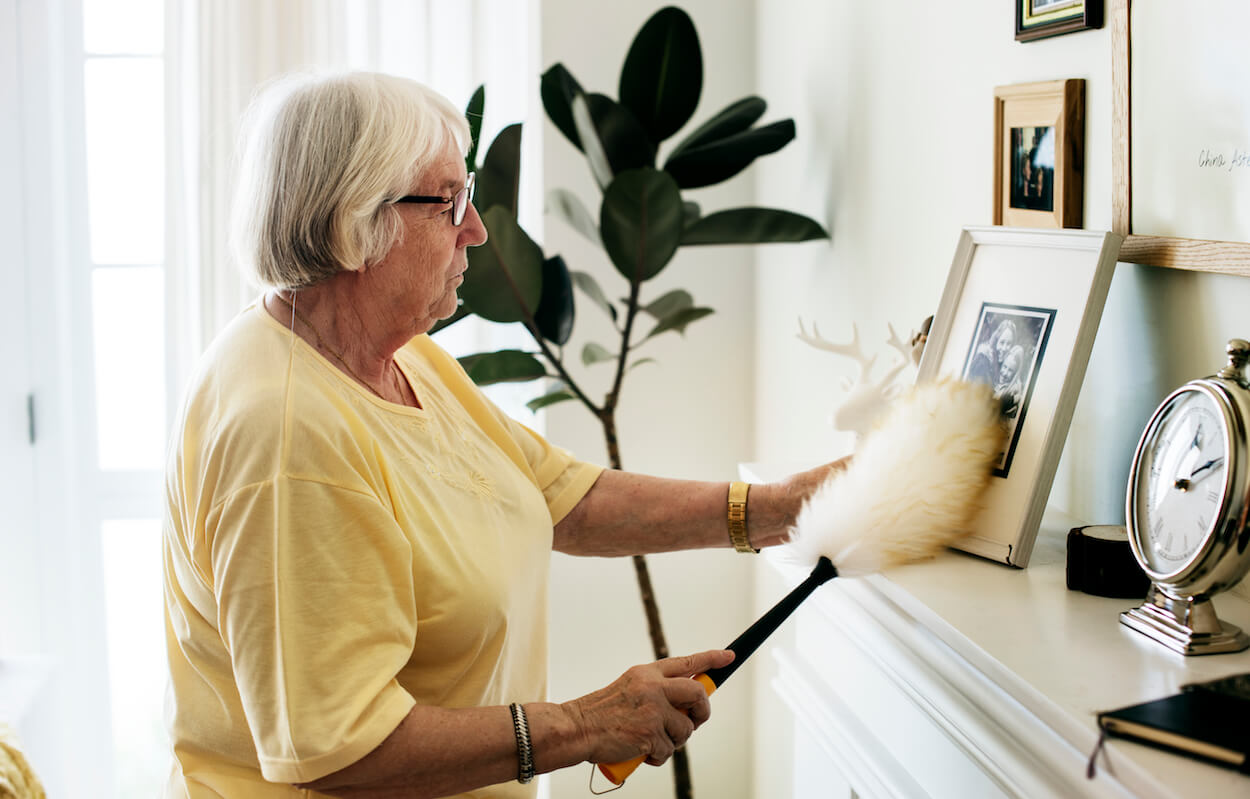 Senior Care and Home Maintenance
Reading Time:
2
minutes
As we get older, routine household chores, such as mowing the lawn, tending to the roof, or even going up and down the stairs may become more difficult. Home maintenance can be a bit more challenging to achieve when a senior's home does not include safety features, for example, railings. If your loved one is not ready for a senior care community, there are steps to take in transitioning their home into a safer environment.
Keeping Your Loved One Safe
It is essential to be aware of your loved one's abilities to perform daily tasks and physical activities. You want to ensure your senior loved ones are staying active. Some physical activities, such as gardening, can help prevent common diseases such as osteoporosis. Below is a list of ways you can provide care for the senior in your life and ensure a healthy lifestyle and a safe environment:
Engage A Loved One in Physical Activities:

Helps to avoid common diseases
Improves cardiovascular health
Decreases cortisol levels and stress

Remove Tripping Hazards:

Zip tie all electrical cords in the home or apartment together and ensure they are out of the way
Move furniture away from walkways, or against the walls

 Allergy Prevention:

Check windows seasonally to avoid rain or pollen from getting inside the home
Clean dust off of furniture, mattresses, and carpets
Wipe away grease from walls, cabinets, and countertops with a soapy sponge
Benefits of Decluttering Home
By decluttering your loved one's home, it can decrease their cleaning duties to weekly or even bi-weekly. Helping older loved ones clean their house, reduces their chances of injury or overworking themselves. Below is a list of methods to provide optimal senior care and declutter their home adequately:
Furniture and Rugs:

Remove infrequently used furniture from the room
Remove rugs or secure them firmly to the floor

Medications:

Make sure that your loved one is getting the correct dosage of the appropriate medication
Discard medications that are no longer need or that have expired
Do not store medications in the bathroom because of the damaging humidity (try a bin in a closet or nightstand)

Appliances:

Remove appliances that are used infrequently from countertops
Remove seldom used kitchenware and store the regularly used utensils in easy to reach cabinets

Emergency:

Place all emergency contacts on speed dial
Provide first aid kits in case of a minor emergency
Additional Information
These steps will not only declutter your loved one's home, but they will ensure safety and decrease the risk of falling drastically. One of the most vital steps for senior care is securing the bathroom, "the bathroom is one of the most dangerous areas of any home, thanks to the slippery surfaces that can cause falls and small space that makes it tough to move around safely." We suggest adding a railing and a shower chair inside their shower as well as placing non-slip mats within the tub and outside of it.
To read more about daily senior care, visit our blog! If you have a loved one that is interested in a community with fun activities, like-minded individuals, high-quality care, and southern hospitality, contact us today!