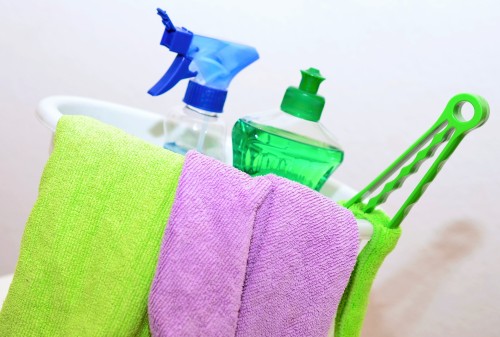 Spring Cleaning for Your Health: Top Ten Things to Throw Out
Reading Time:
5
minutes
Spring is here! If you're like us, you're ready for the warmer weather and the new life in the trees and flowers. In fact, there's so much new life, that the pollen count goes way up—and maybe that's how the phrase "spring cleaning" came into use! Regardless of what prompted the idea of spring cleaning, it can serve as a great time to review what we have and what we need to remove from our lives. That spring cleaning exercise can also have health benefits because a lot of the things we keep just aren't good for us.
If you're trying to help an older loved one with their spring cleaning, you might encounter some resistance. After all, the seniors who are part of "the greatest generation" grew up with rationing and learned how to save and reuse what they had. They could definitely teach us some lessons about being thrifty and recycling!
The Springs at Simpsonville's list of 10 items that are easy to keep, but that might need to be thrown out or replaced is a good place to begin . . . and you can take the opportunity to spend some quality time with your loved one and learn more about what's important to him or her.
1. Daddy's Chair
Or it might be your mom's chair. But you know the one. It's the one no one else ever uses. It is sacred and has likely been in the house for years. If your loved one has one of these, the cushion probably also has a permanent dent where it's worn out. Take dad or mom shopping for a new one. Look for a chair with an appropriate height and firmness with sturdy arms so it's easy for mom or dad to get in and out of the chair. Getting a new chair now might help prevent a fall later.
2. Plastic Ware
It's so easy to save those old margarine or food containers to reuse them for leftovers so you can just pop them in the microwave. That greatest generation mentality will also see reusing these plastic containers as being thrifty. We now know, though, that the containers aren't safe to use over and over because of chemicals that can be released over time. Another factor in cleanliness, especially with older adults whose vision may be impaired, is that the containers can hold bacteria and be more difficult to clean if the container has grooves or ridges or lipped lids. Overall, it's just safer to use other types of containers.
3. The Medicine Cabinet
Do you know what's in your loved one's medicine cabinet? Does he or she know what's in there? Make spring cleaning an opportunity to go through the medicine cabinet with your loved one. Get rid of any expired medications or supplements. Get rid of any medications your loved one is no longer taking. Be sure to dispose of the medications in a safe manner (don't flush them down the toilet) by putting them in used coffee grounds or kitty litter and sealing them in a plastic bag before throwing them in the garbage. Going through the medicine cabinet with your loved one also gives you a good opportunity to be sure she knows everything she's taking and how to take it properly. You can also make a comprehensive list of medications she is taking to give to her doctor to ensure your list matches the doctor's list. Read our recent article about how important it is for your primary care doctor to play a lead role in managing the medication list.
4. Underwear
Want to feel better? What we wear can have a dramatic effect on our moods, and you may have thought about buying new clothes for your loved one, but when's the last time he got new underwear? If a senior is isolated and doesn't get out to shop on his own, underwear could be one of the last things anyone thinks to buy for him. Spring cleaning gives you a great excuse to throw out the old stuff!
5. Cosmetics
Does your mom have lots of makeup? If she's always been a diva, encourage her to get rid of the old makeup and refresh it with new products and new colors. Why? Many cosmetic products get old quickly, especially mascara and lip products. These makeup items can collect bacteria and become unhealthy to use. Plus, the chance to upgrade her stash of makeup will make her feel good. Take her for a spa facial and purchase some new makeup for her. Or surprise her by bringing her some new colors and types of makeup to try.
6. The Toothbrush
Yep. It's another place for bacteria to breed. And it's another item you might not have thought about replacing for your older loved one. Dental professionals suggest replacing toothbrushes every three months at least, and, if your loved one has been sick, you'll want to replace it right away since bacteria can linger on the toothbrush after an illness.
7. Linens and Pillows
Let's freshen up the bedroom while we're at it! Like getting new underwear, we just feel better in fresh, new sheets. Again, if your loved one doesn't get out on her own, she may be using old sheets and pillows. Pillows need to be replaced every three years or so because they harbor bacteria and collect dust and other allergens. If you use pillow protectors, they can give the pillow some extra use, but if it's been several years since your loved one bought a new pillow, treat him to one.
8. Smoke Alarms
The average life span of a smoke alarm is about 10 years. So even when you regularly change the batteries and test to make sure they're working, the sensors still deteriorate over time. Make sure your loved one is protected. If it's been 10 years or longer since the smoke detectors were installed in her home, get some new ones.
9. Throw Out the Throw Rugs
Spring cleaning can also give you a good excuse to take stock of your loved one's home environment to see if there are trip and slip hazards you should remove. Throw rugs, or area rugs, and thresholds can become dangerous obstacles for those with an unsteady gait or challenges with balance. Walkers and canes can get caught on these items as well. Making a safer environment may mean changing some of your loved one's décor.
10. Papers
We all have that one place that collects all kinds of papers. Take time to go through all these papers so you know where the important paperwork is and so you can throw out the outdated items. Your loved one doesn't need the owner's manual for the lawn mower he no longer uses, for instance. Your mom, though, may want to keep the birthday cards from her grandchildren. Talking with your loved one about what's important and what's not can be a special time for you both. Find out where important papers are that you'll need later, and use your conversation as an opportunity for your loved one to tell you about his wartime service as you look for his discharge paperwork or about her courtship and marriage—adult to adult—as you find her marriage license. Ask about legal documents such as insurance policies, a last will and testament, an advance health care directive. If your loved one doesn't have all the paperwork in place that he will need, now's the time to help him. Finding out what keepsakes are important to your loved one will also give you a chance to discover creative ways to treasure and display her memories. Maybe you can make a shadow box display, or maybe a scrapbook would be a fun project for you both. You can show your loved one how much you appreciate his or her legacy and unique experiences and remove the clutter at the same time.