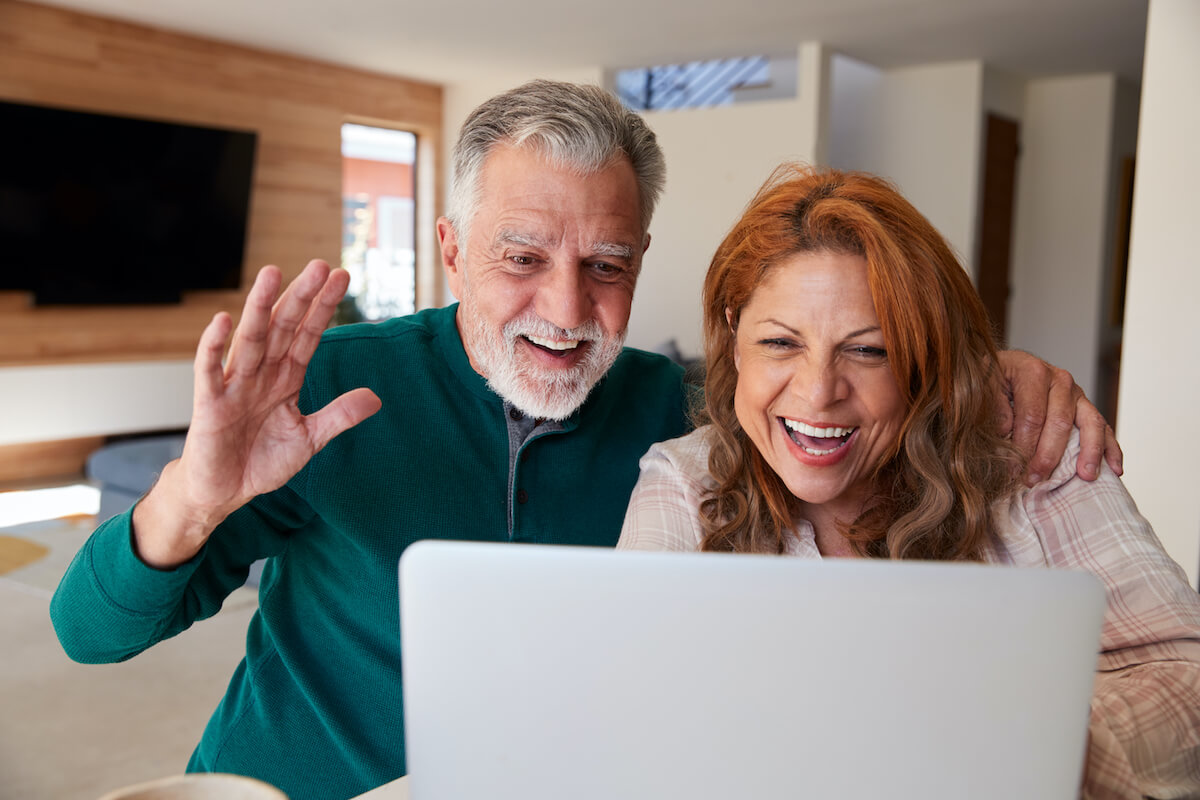 Apart But Together: Staying Virtually Connected With Family & Friends
Reading Time:
3
minutes
There's nothing like sharing a good laugh with an old friend, hugging a grandchild, reminiscing on the past with your now-adult children, or even sitting in comfortable silence with your spouse. All of these are forms of connection, something that—at our core—is a basic human need. 
Humans are hardwired for connection. Social connectivity can lead to increased happiness, better health, and improved overall well-being. Humans, especially older adults, need social links to prevent feelings of isolation and loneliness. However, as we grow older, become busier, or move away from family and friends, staying connected becomes more difficult. It has become notably more challenging during the COVID-19 pandemic, where stay-at-home orders and social distancing protocols prevent in-person social gatherings. 
While it has become more challenging to stay connected in some aspects, it's also become much easier—thanks to technology. Today, you can connect to just about every corner of the world in a few moments. The Springs at Simpsonville, offering assisted living and senior care in the Greenville, South Carolina area, is sharing a few ways you can stay (virtually) connected with family and friends. 
The Next Best Thing 
While face-to-face interactions are a powerful way to connect with someone, video chatting is considered the next best thing. There are countless apps and programs available to video call family and friends across the town, state, or even world! FaceTime is available on Apple iOS devices such as iPhones, iPad tablets, and MacBook computers. Video calling someone via FaceTime is as simple as making a phone call, and is a great way to connect with others "face-to-face." 
Another great video conferencing platform is Zoom, which has been very popular for employees working from home during the pandemic, as it can accommodate larger groups of people. Zoom can be a great way to have a virtual family reunion, digital happy hour, or even a group fitness class! Download the Zoom app and create an account to get started. 
Being Apart Isn't "Game Over" 
Online games can be fun on your own, but you can also play games with family and friends to stay connected! There are many great multiplayer games that you can play with loved ones, and most even have a chat feature so you can talk throughout the game. Examples of popular games include Scrabble or Words With Friends, Chess or Checkers, Dominos, and card games like Texas Hold'Em or Gin Rummy. 
Stay Social with Social Media 
Social media is a great way to stay in touch with friends, extended family, and old classmates, no matter where they live! Facebook is the most popular social media platform, and adults 65 and older are the fastest-growing population on the network. Facebook is an easy way to stay connected as you can instantly share photos, videos, and updates with others. 
In addition to Facebook, other social media platforms can be valuable in connecting those with similar interests. 
While these are just a few, there are various other social networks available that focus on cooking, photography, and other commonly shared interests and activities. 
Tips for Using Technology 
Technology can be a wonderful tool to stay connected with others. By becoming familiar with technology and learning a few safety tips, you can enjoy all the benefits that technology has to offer! Here are a few tips about using technology to stay connected: 
Don't be afraid to ask for help when downloading apps, setting up accounts, or navigating a new platform. Your family and friends will appreciate that you're learning new ways to stay in touch and eager to get started.

Be patient. Everyone experiences technical difficulties that are out of their control. 

Use social media and games to connect with friends, but be careful about adding strangers to your friends list. Only accept people that you know in real life. 

Technology can be a great way to enjoy time with loved ones, but be sure to set limits on your screen time, and don't forget to spend time outside in fresh air! 
Spending time with people we love can improve our lives and increase our happiness. Now more than ever, it's essential to stay in touch with our family and friends, even if that means doing it through a screen. 
We hope these ideas for staying in-touch virtually will encourage you to get online and get connected! 
The Springs at Simpsonville offers inspired independent living, assisted living, memory care, and respite care services near Greenville, South Carolina. For more information on our services and community, we encourage you to visit our website.