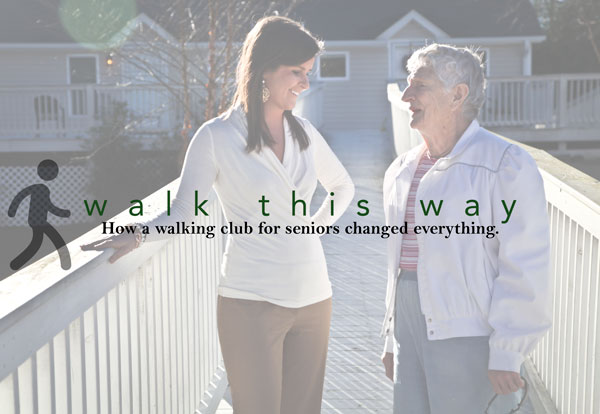 The Springs at Simpsonville's Walking Club
Reading Time:
2
minutes
Walk This Way: How A Walking Club For Seniors Changed Everything.
It's not every day that a business partnership creates much more than revenue.
But when South Carolina's favorite Assisted Living Community teamed up with Legacy Health Services, something amazing happened.
It started on a cold Sunday in February. It was the first day the Legacy team worked with the Springs. Legacy staff were onsite to provide the community residents' Physical, Occupational and Speech therapy services. But when the therapists began working they quickly realized that this place – these people – were special. Legacy had discovered for themselves the vibrant community alive and well at the Springs. With that spirit of life, an opportunity was identified: leverage the high social and wellness-focused energy of residents, and deliver meaningful experiences that complement health.
So, together with residents, The Springs at Simpsonville (and the team at Legacy Health Services) formed a walking club. And every Friday since, the club has walked together through the meandering streets of Southern Living charm and stately ambiance.
Then, the most predictable thing in the world happened. The team…became a team. They formed bonds – therapists, staff and residents alike. Members of the Springs community found that their identities were suddenly just a bit more rooted in their walking, their club, and their sense of togetherness. The walking has given birth to social events that extend beyond the club itself – hosting monthly fondue parties, watermelon socials, and other community-wide events. The walking club had become a social club. A place to take part. A place to belong.
Jodi Herta, the rehabilitation director for Legacy Health Care Services said it best:
"The Springs and Legacy – we both believe in the value of therapy done well. The best way to see this at work – look for signs that folks are thriving. We see that at the Springs."
To be sure, the Springs does feel somehow happier, better, more alive than other assisted living communities. There is an energy that is palpable among the residents, staff, therapists and families. People are happy to be there.
The data backs it up, too. In the time since the walking club began, in those months since Legacy Health Care joined the team, there have been fewer accidents, fewer surprises; less of the unexpected. Falls amongst residents are down 54% and residents report feeling "significantly" more involved in the team.
"I remember the most stunning example of this new energy," said Katie Crotchette, resident care director for The Springs at Simpsonville, "was the life-saving turnaround of one particular resident. This resident was no longer willing to eat. It's a terrible and sad thing – but a sign of sadness, pain and grief not entirely uncommon with individuals as they age. We wanted very much to keep this person at the Springs, but it's medically impossible without food consumption. So imagine our surprise when the team shared that this resident was not only feeding themselves again, and able to stay with us, but that this resident was reporting a sense of happiness in anticipating the upcoming social events and walking schedules. Stories like that are a testament to the personal engagement of the staff from Legacy, and of dedication to the community at the Springs."