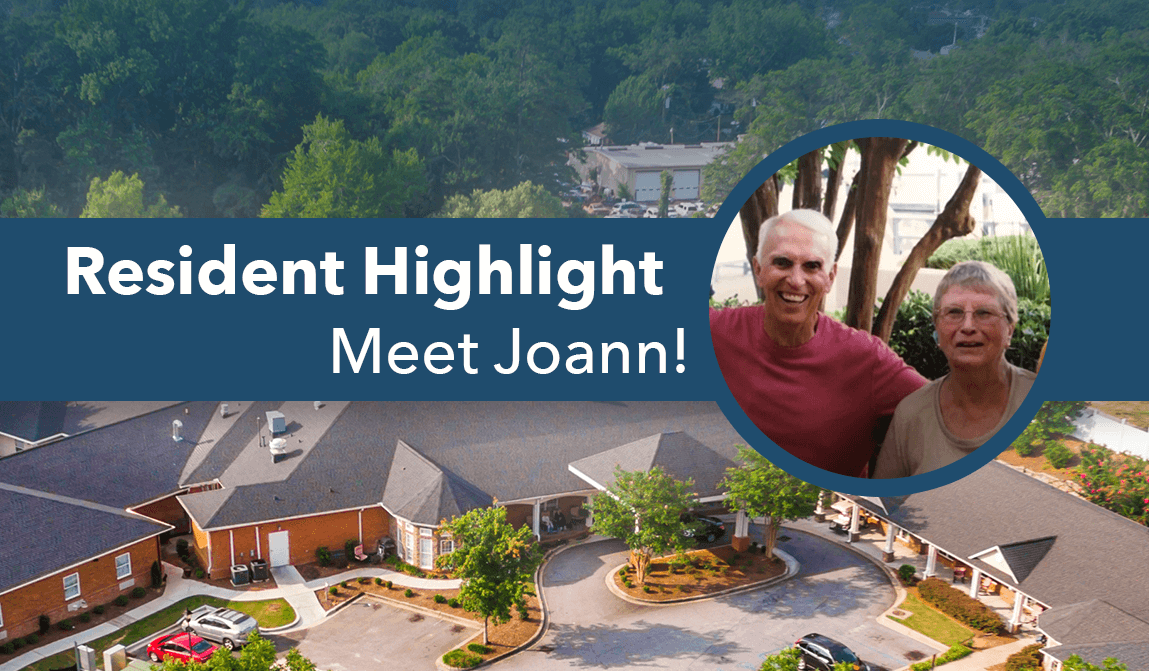 Joann – Resident of the Month
Reading Time:
2
minutes
The Springs at Simpsonville Resident of the Month for March is Joann!
Joann grew up in a small coal-mining town called Benbush, WV. Her dad was a coal miner, and her mom stayed at home to raise their seven children. Her dad also loved playing baseball and brewing beer—before homebrewing was as "vogue" as it is now! He was also an excellent carpenter and mechanic. Joann says, "He pretty much knew how to fix everything, and he taught my brothers his many skills." Joann's mom was a wonderful mom, and everyone called her a "saint." She loved to cook and bake for her family.
Joann met her husband, Dale, when she was 15 years old in the 9th grade. She says that she knew then that she loved him and would marry him!
"We had Study Hall together in a large room which served as the school Library, "Study Hall" and an Assembly Hall. One boy and one girl could leave the Library at a time by putting their name on a slip of paper and putting it on the nail–girls on the right-hand side and boys on the left. Often, Dale would exit the Library after I did and we would meet in the hall and nervously get to know one another. Of course, being isolated in Benbush, we never actually went on dates.
Occasionally, Dale would walk or hitchhike and come over to the house to see me. We would sit out on the swing on the front porch, and some nosy little rug rats would be looking out the living room window to see what they could see. The faces of Harold, Barbara, Pat, and Patricia had wide grins and lots of giggles. I doubt if they ever saw us sneak a kiss as I was a good Catholic girl and very well behaved!"
They were married on November 22nd, 1958 when she was 22 and were married for 55 years before she lost him to cancer. Dale was a quarterback in college West Virginia University. He later became a coach for West Virginia University, Texas Tech University, University of South Carolina, University of North Carolina, Colorado University, Dorman High School. Dale was an excellent husband, father, grandfather, "Popop," brother, coach, and friend to so many. He was a loved mentor of many of the men that he coached during their high school and college days.
Dale and Joann went on to have three children Joann recalls the birth of her kids and grandkids being the other major highlights of her life, after marrying her sweetheart Dan. Joann moved to The Springs in May of 2018, six years after Dale passed away, and loves being a part of the Springs community.
Hear from Joann, herself, on her life since being at The Springs! 
Thank you, Joann, for sharing your love story with us. Congratulations, The Springs at Simpsonville is delighted to have you as our March Resident of the Month!