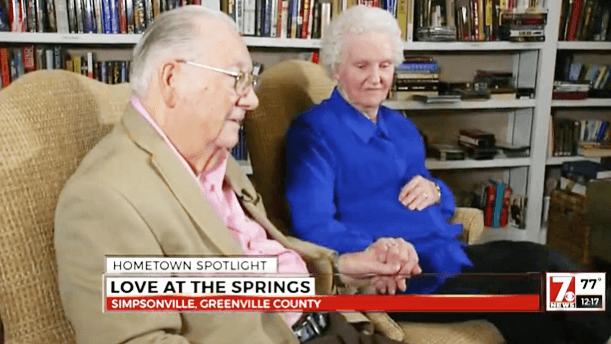 Love Knows No Age at The Springs
Reading Time:
< 1
minute
The Springs at Simpsonville is so proud to be featured in WSPA Channel 7 News Hometown Spotlight. It highlighted Curtis and June and the love they found here!
Curtis moved into our assisted living community in 2011, after losing his wife of 63 years. Katy Crochet, our Resident Care Director, had noticed Curtis did not participate in the group activities. After Katy moved her grandmother, June who had recently lost her husband, into the community Katy eventually introduced the two.
They were two broken hearts that found each other and have since won our Prom King and Queen, in addition to our Cutest Couple award. Now, the two are inseparable and always sitting together, walking together and putting puzzles together.
Love is always possible, and age is not a factor. Here at The Springs, we encourage all residents to be as happy as they possibly can, and we will offer any assistance in cultivating happiness. Life is so short, so why not try and feel the best you can every day you get. Schedule a tour to find your own happiness with us!