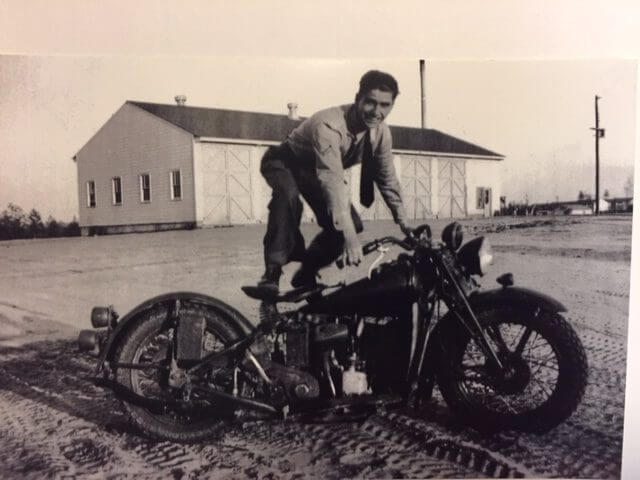 A Century of Cool, A Quilt of Valor
Reading Time:
2
minutes
Rudy, and the Quilt of Valor
Rudy Hardwick has always been cool. He used to requisition Harley-Davidson motorcycles to ride around during his Army years. Rudy has had 103 consecutive years of cool, to be exact. Which is why he might just welcome the day on May 28th, when, from his home at The Springs at Simpsonville, he will receive something much warmer: a Quilt of Valor made just for him, to honor his service to the nation.
Rudy was born in Loris, SC in 1913. He had five brothers and one sister. As a teen, his family moved to Orlando and then later to south Georgia, where Rudy spent his formative years at work on the farm. When he came of age, Rudy joined the Civilian Conservation Corps, a program that put people to work during the Great Depression. When the woman at the CCC office asked where Rudy might like to work,  Rudy said, "As far from Georgia as I can get." So much for farming!
The CCC took his advice to heart, and shipped Rudy to the Forestry Service office in Oregon. Rudy did road construction and manned a fire tower amidst the Siskiyou Mountains Eventually, Rudy moved back to Georgia, which he promptly decided he still didn't like; he instead joined the army in October, 1940. Rudy first served in a Field Artillery unit until he decided he wanted to be a paratrooper. He went to Airborne School, joined the 82nd Airborne unit. He was, later in his career, also stationed with the 13th Airborne, and the 508th.
But it was with the 82nd, in early 1944 that Rudy saw war. He arrived in Europe among occupational forces stationed in Belgium, and later in Paris. Rudy stayed until the end of the war, and he'd later be among the soldiers in New Mexico to witness atomic bomb testings. Even with his eyes closed and from a trench, he was still blown backwards, could still see the flash.
Rudy, his wife Marguerite (of Loris, SC) whom he'd married in 1943, and their children Ken and Steven lived for a time in Japan, and at Fort Campbell, KY, before Rudy retired to Myrtle Beach, where he restored old cars by the beach, and built a house in Surfside.
Marguerite passed away in 2010. And today, at 103, Rudy will receive a quilt from the Quilts of Valor Foundation: a nation-wide civilian organization that welcomes our sons home from war. The organization has given 158,000 quilts of valor nationwide, and seeks to cover every service member and veteran touched by war with a quilt. The Quilt of Valor is considered one of the highest awards a civilian can bestow on a service member or veteran.
On Sunday, May 28th, at 3:00 p.m., Rudy will be awarded the quilt of valor at the Springs at Simpsonville. The event is open to the public. For more information on Rudy or the Quilts of Valor, contact AshleyW@caravita.com or visit QOVF.org.