Construction at the Springs
Reading Time:
< 1
minute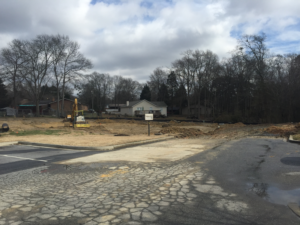 As you may know, the Springs is proudly building an addition to accommodate our growing community of loved ones. Here's a picture, and an update on the work done in February from our construction lead, Hunter Howard III:
The month of February has presented many challenges and opportunities. Of these challenges, weather has been a major factor. Utilities relocation and final site excavation were the two goals to be completed this month. The weather has forced the rescheduling of utility work 4 times, and while attempting to remove bad soil we had one truck become stuck in the mud. The current schedule has the natural gas line relocation to be finished by Friday 2/27/2015, and we have developed a plan for relocating electrical supply lines that will require 1 week of clear weather. We hope the forecast changes in our favor for the month of March.